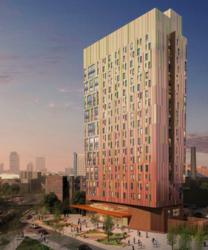 Birmingham, Alabama (PRWEB) February 18, 2012
Capstone On-Campus Management ("COCM") is pleased to announce it has been awarded the management of operations, maintenance, and summer marketing of all residence life facilities on the campus of Massachusetts College of Art and Design ("MassArt"). COCM's partnership for management services is with the owner of the MassArt facilities, the Massachusetts State College Building Authority ("MSCBA").
COCM's services on the MassArt campus began in 2007, as the manager of the 310 bed Artists' Residence. The arrangement was later expanded by 120 beds, to include Smith Hall. After a national competition in 2011, COCM was selected to not only continue managing these existing facilities, but to also expand its services to include a 493 bed new housing facility (currently under construction for occupancy in May of this year). At completion of the new housing facility, COCM will manage a total of 923 beds, housing MassArt students, as well as students of the School for the Museum of Fine Arts, and the Massachusetts College of Pharmacy and Health Sciences.
The management arrangement at MassArt reflects a "shared governance" structure, in which COCM provides daily operations of the three residence halls, while MassArt provides student life and residential programming. COCM and the MassArt Office of Housing and Residence Life collaborate to provide a high quality residential experience for the residents. In addition to providing daily operations, COCM is also responsible for the marketing and operations of MassArt's summer and conference business.
Once completed for occupancy, the new MassArt residential facility will offer a cafe, Student Health Services, and a 20th floor lounge. The lounge will be used for hosting college events throughout the year. This new facility is part of a large-scale expansion and redesign of the College's presence along Huntington Avenue, also referred to as the, "Avenue of the Arts."
About Capstone On-Campus
Headquartered in Birmingham, Alabama, and now in its 9th year of business, Capstone On-Campus Management currently manages 21,500 beds of student housing, serving 20 campuses nationwide. Capstone On-Campus Management has a clear focus: to continue to excel as specialists in the management of student housing owned by non-profits. As result, it manages more student housing owned by non-profits than any firm in the industry.
###