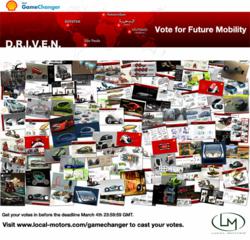 Now is your chance to vote and choose the top winning vehicle designs reflecting your vision of the future of mobility in each of 5 local areas including Amsterdam, Bangalore, Basra, Houston and Sao Paolo.
Phoenix, AZ (PRWEB) February 22, 2012
On January 17, 2012 Local Motors in partnership with Shell's GameChanger team announced DRIVEN - Design of Relevant and Innovative Vehicles for Energy Needs – a competition seeking innovative transportation solutions to address mobility challenges on Local Motors' The Forge (forge.local-motors.com), an online, open co-creation forum. The challenge required the incorporation of locally available energy sources, construction materials and the consideration of local social issues with the intention of meeting current and future transportation needs.
A record-breaking 181 vehicle concepts were submitted into this contest from designers around the world – so many that Local Motors and Shell GameChanger decided to extend the voting deadline.
Now is time for the public to vote and choose the top winning vehicle designs reflecting visions of the future of mobility in each of 5 local areas including Amsterdam, Bangalore, Basra, Houston and Sao Paulo. This public vote, open to all, will help determine the winner for each region, awarding $2,000 to each. Shell GameChanger will choose a Grand Prize Winner from among the 5 who will earn an additional $5,000 and will see his/her design made into a scale model to be shown around the world.
Register and vote at http://www.local-motors.com/GameChanger.
Deadline for voting is March 4th (23:59:59 GMT).
Winners to be announced March 13th (7:00:00 GMT)
About Shell GameChanger
We believe some people cannot stop dreaming up ideas to make things better. However, dreaming is not enough to show an idea will work. For lack of money, a few connections, and perhaps a bit of guidance, many great ideas never get off the ground. This is where Shell GameChanger can help. If you have a creative mind and believe that your innovative ideas can transform the energy industry, perhaps you should be speaking to us. We invest in novel, early-stage ideas and bring them to "proof of concept" and, if successful, work with you for further development and commercial deployment. We are looking for innovative ideas to more affordably, efficiently and cleanly develop and use today's energy resources, or unlock the clean energy resources of tomorrow. Submit your ideas on http://www.shell.com/gamechanger.
About Local Motors
Local Motors is a new American car company setting an exciting and sustainable course to design, manufacture, and sell cars for niche markets. Local Motors co-creates new purposeful vehicles and components with its community of 14,000 designers, engineers and enthusiasts using open source principals. Anyone can join the Local Motors community at http://www.local-motors.com to assist in designing and engineering of new, innovative vehicles, and anyone can help choose which vehicles are produced and available for purchase. Local Motors shares all vehicle data to allow easier modification, home builds or creation of new components to fit existing vehicles. Local Motors does not sell kits. Customers get to build their co-created vehicle at the Local-Motors Micro Factory with professional assistance. The build is completed during 2, 3-day build weekends. Local Motors has been recognized for its groundbreaking approach to automotive development, appearing in articles in Popular Science, Wired and Popular Mechanics and was featured on the Discovery Channel.
Now any individual, company or organization can co-create vehicles, parts and accessories through Local Motors' co-creative challenge-based platform called "The Forge"; email support(at)local-motors(dot)com for details.
# # #