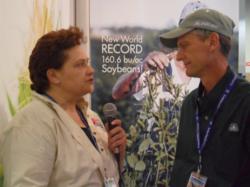 We think the ASK THE GROWER discussions will inspire other farmers to think differently about their crop inputs.
Houston, TX (PRWEB) February 20, 2012
Progressive Growers looking for insight on what Yield Contest winners are doing differently will want to visit StollerUSA booth #535 in Nashville. Stoller is sponsoring ASK THE GROWER Q&A sessions where Commodity Classic attendees can listen and learn why some of the industry's high profile corn and soybean growers rely on Stoller technology.
"Progressive growers and innovative thinkers have always been open to the unique science that makes Stoller technology so effective," explains StollerUSA Marketing Director Jeff Morgan. "So it just makes sense many of the country's yield contest winners are our customers too. We think the ASK THE GROWER discussions will inspire other farmers to think differently about their crop inputs."
Prominent and record-setting corn and soybean farmers will explain how Stoller's Bio-Forge® and Bio-Forge®ST have enhanced yields and opened the door to the entire Stoller program of stress management and plant performance products to maximize yields. Interviews with Kip Cullers, world-record Missouri soybean grower and Dave Hula, Virginia corn farmer with a 429 bu/acre corn crop, will be among the growers sharing their stories.
Pam Jahnke, from Farm Report Broadcasting, will moderate the sessions. Known for her no-nonsense interview style, Jahnke will guide discussions so that visitors can quickly gain insight on farming philosophy and crop management strategies.
In addition to the farmers from IL, NJ, ME, TX, IA. MO and VA that will explain how they benefit from the use of Stoller technology, Stoller's technical team will be on hand to answer questions about specific products, applications and growing conditions.
Bio-Forge, StollerUSA's flagship product, maximizes genetic expression by up-regulating key genes associated with root development for enhanced nutrient uptake and appropriate hormone balance. Bio-Forge also offsets the effects of transient stress by helping to control excess ethylene levels.
StollerUSA is dedicated to helping producers enhance yields by maximizing genetic expression. The result is enhanced marketable yield, improved return-on-investment and improved tolerance to disease and other stress. Only Stoller products contain Stoller's proprietary technology that is proven to ensure optimum plant growth by maintaining appropriate hormone balance in combination with supporting nutrients. Validated by Universities nationwide, Stoller's unique formulations result in healthier, more productive crops that are better able to withstand stress and achieve their full genetic potential.
About StollerUSA
Celebrating over 41 years in agribusiness, StollerUSA markets a full line of products to help farmers increase crop yield and quality. StollerUSA, headquartered in Houston, is actively engaged in basic and practical research to enhance crop productivity in more than 50 countries.
###