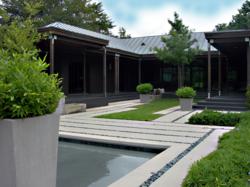 "Going green is not just about being trendy, it is a way of life."
Dallas, TX (PRWEB) February 21, 2012
According to the U.S. Environmental Protection Agency (EPA), green building is the practice of creating structures and using processes that are environmentally responsible and resource-efficient throughout a building's life-cycle from siting to design, construction, operation, maintenance, renovation and deconstruction. With green, sustainable landscaping becoming an important factor for many people designing an outdoor living space, PlanWorx™ offers a variety of custom, sustainable design options that are both environmentally friendly and money-saving.
"Going green is not just about being trendy, but it is a way of life - being conscientious about the environment and being less wasteful with resources. If you are looking for long-term savings on your water and utility bills, and want your outdoor space to reflect your environmentally-friendly lifestyle, then going green is a no-brainer."
Knaak says there are simple ways to get started on going green. Homeowners can start with their landscape design or remodel project by xeriscaping. The principles of xeriscaping address the areas of slope, plants, plant groups, watering methods, and soil. And because xeric design is based on principles, shape and other design aspects can be based on and used for any design style. For more information about xeriscaping and going green with a new landscape design, visit http://www.onlinelandscapedesign.com
About Knäak Design Group
Knäak Design Group is a nationally recognized landscape architecture firm, providing professional services to architects, engineers, builders, and homeowners looking for unique design solutions. To learn more about their professional, eco-friendly landscape design services please visit http://www.knaakdesigngroup.com or call 1-800-560-8361.
Knäak Design Group has offices in Dallas, Phoenix, and Southwest Florida and provides services nationwide. For more information about their online landscape design services contact Sarah Hernandez or visit our website at http://www.onlinelandscapedesign.com.
# # #