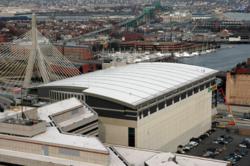 More than 30 contractors submitted projects for the Sika Sarnafil Contractor Project of the Year competition - an annual event recognizing outstanding workmanship for projects using a Sika Sarnafil thermoplastic membrane.
Canton, MA (PRWEB) February 21, 2012
Winners of the 2011 Roofing Contractor Project of the Year Competition were announced today by Sika Sarnafil, the worldwide market leader in thermoplastic roofing and waterproofing membranes. Judged on project complexity, design uniqueness, craftsmanship, and creative problem solving, the winners include: TD Garden in Boston, MA; Grand Harbor Condominium in Destin, FL; a new office complex in Warminster, PA; and Griffin Hall, Northern Kentucky University in Highland Heights, KY.
A winner and two finalists in four different categories: Low Slope, Steep Slope, Waterproofing and Sustainability were recognized for outstanding workmanship in completing a project using a Sika Sarnafil thermoplastic membrane for roofing or waterproofing applications.
Low Slope Category Winners
Greenwood Industries, Inc. of Millbury, MA won first place in the Low Slope category for the re-roofing of the TD Garden, the Boston landmark that is home to the Boston Bruins and Boston Celtics. The 19,600-seat arena has a distinctive barrel roof now covered with an energy-efficient Sika Sarnafil EnergySmart Roof® System. During the project Greenwood worked around a continuous schedule of TD Garden events and even withstood a hurricane to complete the project. The second place winner was All Weather Waterproofing, Inc., Salt Lake City, UT, for the Wilkinson Student Center at Brigham Young University, Provo, UT. Third place went to Letner Roofing Company, Inc., Orange, CA, for the Pacific Design Center "Red" Building in West Hollywood, CA.
Steep Slope Category Winners
In the Steep Slope category, Bel-Mac Roofing, Inc., of Santa Rosa Beach, FL, was awarded first place for their work on Grand Harbor Condominium in Destin, FL. High winds, numerous roof levels, and a complex geometric roof design pushed the Bel-Mac crew. The company's creative problem solving enabled them to install a watertight Sika Sarnafil Décor Roof System that preserves the upscale look established by the condo's failed standing seam metal roof. Peach State Roofing, Inc., Lawrenceville, GA, was the second place finisher for the Catholic Center at the University of Georgia, Athens, GA, and Diamond Roofing Company, Inc., Syracuse, NY, was the third place finalist for the Finger Lakes Residential Center in Lansing, NY.
Waterproofing Category Winners
Tecta America Zero Company, LLC, based in Cincinnati, OH, took first place in the Waterproofing class for Griffin Hall, Northern Kentucky University in Highland Heights, KY. The company battled terrible weather conditions and an aggressive schedule for this newly constructed facility, which involved three distinct roof areas and included a vegetated green roof protected by Sika Sarnafil's G476 waterproofing membrane. Second place in this category went to A-1 Roofing Company, Elk Grove Village, IL, for the United Cargo Facility in Chicago, IL, and third place to CitiRoof Corporation in Columbia, MD, for the H.D. Woodson High School in Washington, D.C.
Sustainability Category Winners
In the Sustainability category, Delta Contracting Services, Inc., of East Brunswick, NJ, was awarded first place for a new office complex in Warminster, PA. This visually stunning facility received a very high worldwide LEED score in the world for newly constructed office buildings and garnered a LEED Platinum Certification. In second place was Morris Roofing & Sheet Metal Corporation, Springfield, MA, for the Mass Mutual headquarters in Springfield, MA, and in third place for this grouping was Progressive Roofing, LLC, of Phoenix, AZ for the Wells Fargo Arena at Arizona State University in Tempe, AZ.
More than 30 contractors from around the U.S. submitted projects for evaluation in the annual Sika Sarnafil Contractor Project of the Year competition. First place winners were awarded cash prizes and all finalists were presented with recognition plaques.
"We are proud to honor these award winning project teams and salute them as champions of proven performance and design excellence," said Brian J. Whelan, Senior Vice President of Sika Sarnafil. "Congratulations to the winners of the 2011 Contractor Project of the Year competition."
About Sika AG
Sika AG, headquartered in Baar, Switzerland, is a globally active company supplying the specialty chemicals market. It is a leader in processing materials used in sealing, bonding, damping, reinforcing and protecting load-bearing structures in construction (buildings and infrastructure construction) and in industry (vehicle, building component and equipment construction). Sika's product lines feature high-quality concrete admixtures, specialty mortars, sealants and adhesives, damping and reinforcing materials, structural strengthening systems, industrial flooring and roofing and waterproofing membranes. Sika AG has subsidiaries in more than 70 countries worldwide, including Canton, MA and approximately 13,500 employees link customers directly to Sika and guarantee the success of all of its business relationships. With this business structure, Sika generates annual sales of CHF 4.4 billion.
For more information about Sika Sarnafil in the U.S., visit http://www.sikacorp.com.
###