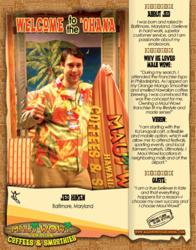 I am a true believer in fate and that everything happens for a reason. I feel like I can now choose my own success and I choose Maui Wowi!
Greenwood Village, CO (PRWEB) February 18, 2012
Maui Wowi Hawaiian,http://www.mauiwowifranchise.com, introduces their newest Franchisee, Jed Hiken, to the Baltimore, Md. community, bringing all-natural, fresh fruit smoothies and premium Hawaiian coffees to the area. Jed discovered Maui Wowi after advice from The Entrepreneur Source (TES) franchise consultant, Gayle Becker, who suggested he attend a franchise expo in Philadelphia.
"As I sipped on my Orange Mango Smoothie and smelled the brewing coffee, I was hooked on the concept of pursuing the Maui Wowi franchise and lifestyle," said Jed. "I really wanted to find a business where I didn't have to trudge through the day. I wanted a job I could enjoy and Maui Wowi was the perfect fit."
Jed, like so many others, suffered during the tough economic times. He owned his own family business, Hiken Title, Inc. but after the downturn in the economy, he decided it was time to take his future into his own hands and do something more recession resistant.
"I am a true believer in fate and that everything happens for a reason. I feel like I can now choose my own success and I choose Maui Wowi," said Jed.
Maui Wowi's flexible business models give Jed the opportunity to start out with a mobile unit called a Ka'anapli cart that will allow him to work events and venues like festivals, farmer's markets, sporting events, and catering. He plans to network and promote the Maui Wowi brand in order to grow his business with several carts and ultimately a fixed retail or kiosk location.
Celebrating 30 years, Maui Wowi Hawaiian Coffees and Smoothies specializes in tropical smoothie flavors made from all-natural ingredients and coveted coffee from the Hawaiian Islands. They can be found at events, venues, and locations, with franchise opportunities in the U.S and internationally.
About Maui Wowi Hawaiian Coffees & Smoothies:
Before the days of big Hawaiian resort hotels and fiberglass surfboards, surfers spent long, lazy days partaking in the tasty waves of the North Shore beaches. As the legends of the surfers grew, many were drawn to the healthy, carefree lifestyle of Hawaii. Since 1982, Maui Wowi Hawaiian has been spreading the 'Aloha Spirit' across the world with its premium Hawaiian coffees, all-natural fresh fruit smoothies and authentic Hawaiian products. From event carts, mall kiosks and stand-alone retail locations, Maui Wowi Hawaiian operates 605 units worldwide. For more information about Maui Wowi Hawaiian's flexible, low cost franchising opportunities, visit http://www.mauiwowifranchise.com.
###