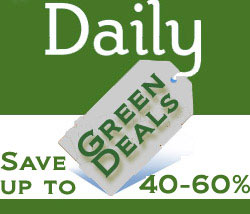 GreenDeals mission is to connect consumers with sustainable companies and products, so these types of contests that have universal appeal to consumers.
Los Angeles, CA (PRWEB) February 21, 2012
If dishing out a few dollars a day for coffee is something you do regularly, check out the Greendeals Coffee Sweepstakes for a chance to win a year's worth of coffee from Grounds for Change. Grounds for Change is a certified organic fair trade coffee roaster that specializes in 100% Fair Trade Coffee. Winning this prize, valued at over $270, could make that morning joe taste even better. Three additional winners will win a Grounds for Change Fair Trade Coffee gift pack worth $50 each.
GreenDeals has partnered with Grounds for Change to giveaway a year supply worth of fair-trade organic coffee. The sweepstakes will run through February 24, 2012 with winners being selected on March 4, 1012.
"We want to provide our customers with the highest quality coffee available. To us, that means Organic Certified, Fair Trade Certified and CarbonFree® Certified - caring for ecosystems, workers and the climate," says Kelsey Marshall, Co-Founder of Grounds for Change. "It's simply the right thing to do."
The sweepstakes is being featured on Greendeals.org, a sustainable and green deal site promoting certified green businesses from Green America and the Green Business Network. Consumers can enter via Facebook or GreenDeals.
Greendeals Director, Jonah Mytro said "Each month, we will be featuring a sweepstakes promoting a green business, giving away sustainable products and helping promote green companies. Grounds for Change offers a great product and is committed to socially responsible practices so it is a natural fit."
"GreenDeals mission is to connect consumers with sustainable companies and products, so these types of sweepstakes that have universal appeal allows us to reach a large audience of consumers and help promote our certified green businesses," stated Jonah Mytro of GreenDeals.
About GreenDeals
GreenDeals launched in October 2010 to offer discounts and deals from local and national green businesses approved by Green America. GreenDeals offers daily deals, contests, content, tips, and promotes green living to thousands consumers across the US and Canada.
About Grounds for Change
Grounds for Change is a certified organic coffee roaster specializing in 100% Fair Trade Coffee. We roast Organic Fair Trade Coffee that is grown in shaded conditions and our Coffee of the Month Club is the perfect coffee gift for any occasion. Grounds for Change has a comprehensive Wholesale Coffee program for independent coffeehouses, as well as a Coffee Fundraiser for organizations. Every single bean we roast is certified Fair Trade Organic coffee.
###