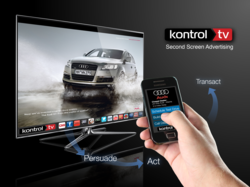 "The television industry is about to be disrupted and MOVL has a real opportunity to capitalize on it," said Mark Cuban.
Atlanta, GA (PRWEB) February 21, 2012
An Atlanta-based technology company focusing on innovative "second-screen" experiences, has received funding from billionaire Mark Cuban, founder of Broadcast.com, Chairman of HDNet, and owner of the NBA Dallas Mavericks.
"As the Connected TV revolution takes place, we couldn't ask for a better partner than Mark Cuban," said Juan Pablo Gnecco, CEO of MOVL. "Mark is an Internet pioneer and a television visionary who built and sold a massive video streaming company long before YouTube and Netflix existed. We are honored that Mark has chosen MOVL as a company he believes can change the way people will experience television in the future."
"The television industry is about to be disrupted and MOVL has a real opportunity to capitalize on it. I like what Alan and Juan Pablo are doing and I'm happy to be a part of it," said Mark Cuban.
The timing could not be better as MOVL is about launch KontrolTV, a leading-edge technology that integrates television, mobile devices, social media and live user interaction to create an entirely new way for consumers to experience and control their content. Users can sign up for an exclusive invite at kontrol.tv
"This is truly a groundbreaking product for consumers, advertisers and developers," Gnecco said. "For consumers, it's an amazing way to discover and experience new content, participating in television in a social way. For advertisers, KontrolTV is a new opportunity to reach a connected audience, with second-screen synchronized advertising. And for developers, it opens up a way to easily publish and monetize content in the exploding industry of SmartTVs."
"KontrolTV is powered by the MOVL Connect Platform, making it easy for developers to create multi-screen applications for the major SmartTV platforms", said Alan Queen, CTO of MOVL. Alan explained that the SmartTV ecosystem is extremely fragmented, and creating companion synchronized applications for all devices can be very challenging, but using the MOVL Connect Platform, templates and APIs, developers can build once and publish everywhere. "Using our platform, you can create apps in HTML5, or your preferred language, and the platform will allow you to publish to Samsung, LG, GoogleTV, and all Android and iOS devices. It's very powerful!"
KontrolTV will launch this summer and will be initially available for Samsung SmartTVs, GoogleTV, LG SmartTVs and Facebook, with companion apps for iOS, Android and Windows Mobile devices.
About MOVL
Founded in October 2010 and headquartered in Atlanta, MOVL, LLC is driving innovation in the social TV app revolution by creating connectivity between smart-phones, tablets and smart TVs through its MOVL Connect™ Platform. The proprietary platform allows for quick deployment of multi-user and multi-device applications and has been adopted by developers worldwide, including the top three winners of the 2012 Free The TV Challenge. MOVL was the original winner of the 2011 Free The TV Challenge with its popular multi-screen application "WeDraw" and has created ground breaking TV applications, including "SwipeIT", which allows users to play content from their mobile devices on their Smart TVS instantly and wirelessly. The MOVL Connect™ platform is available to developers at connect.movl.com. For more information about the company and the platform technology visit http://www.movl.com.
@thinkmovl for new launches and news
facebook.com/thinkmovl
# # #