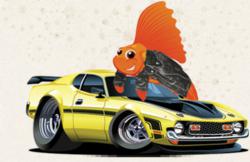 The amount of work that we need to put into running our tax code is preposterous and inefficient.
New York, NY (PRWEB) February 17, 2012
RoadFish.com men's lifestyle and finance magazine today articulated confidence in the Internal Revenue Service despite the IRS website's popular page, "Where's My Refund?" being down. RoadFish.com urged taxpayers wondering when their refund check would arrive to be patient during the glitch. And although RoadFish.com has confidence that the IRS will get this going, they still feel that there is a better solution that would eliminate all this red tape.
The IRS posted the following notice on its website: "Update: We are aware that some taxpayers who have filed electronically and received an acknowledgement from the IRS are concerned when they visit "Where's My Refund" and are told that we have no information regarding their return. This is a temporary situation, and we expect to resolve the matter in a few days. At that time, taxpayers will be able to get an expected refund date when they visit "Where's My Refund." If a taxpayer received an acknowledgment message that their e-filed tax return has been received, they can be assured that the IRS has the tax return even though "Where's My Refund" does not reflect that. Taxpayers should not call the IRS unless specifically directed by "Where's My Refund," as there is no new information to give them."
The San Francisco Chronicle reported that the IRS was issuing tax refunds a week later than the "Where's My Refund" tool was predicting for people who filed electronically between January 17 and January 25th, and opted for direct deposit. The Chronicle published a statement from the IRS made in late January, stating that the delay "relates to fine-tuning IRS systems to adjust for new safeguards put in place this tax season to provide stronger protection against refund fraud." According to the article, the glitch was thought to have been fixed by January 26th.
RoadFish.com's editor feels that there is a better solution, and gave his advice on how to improve the tax system in general. RoadFish.com's editor was quoted saying, "I've said this before and I'll say it again. The amount of work that we need to put into running our tax code is preposterous and inefficient. The second we move over to a flat consumption tax on personal products the government will instantly save billions per year. This is just another example of the complexity of the tax collection process causing massive extra work. Just stop and think for a second about all of the work you do as a result of taxes that would be eliminated if they just charged you 20% or 30% extra every time you made a consumer purchase."
The IRS assures taxpayers in a message on its website, "We expect the vast majority of tax refunds to continue to be issued within the historical range of 10 to 21 days. The IRS is taking steps to update information so that "Where's My Refund?" has current information. The IRS apologizes for any inconvenience and will provide updated information as soon as possible."
RoadFish.com's editor has expressed his opinion in the past that receiving a tax refund a week late is a small price to pay "to have the IRS on point to catch fraudulent tax returns with stolen social security numbers," and continues to hold that stance.
A recent poll done by TD Ameritrade Holding Corp. shows that 63% of Americans who will be receiving a tax refund in 2012 plan to save or invest at least part of those funds, while only 14% said that they would indulge on luxury items or travel. The majority that stated they would be saving the money also reported that they will also use the extra cash to pay debt, utilities, or other necessities. A tax refund for many is a golden opportunity to dig oneself out of debt and bump up a credit score for the coming year.
About Roadfish
RoadFish.com is an online men's lifestyle and finance magazine targeted toward men in their 30's and 40's that have already attained a moderate level of success in life, and are striving toward more. It goes over current events of interest to this group, such things as exciting adventures, consumer interests, heroes, and dating tips, as well as ways to make more and save more money. It is a publication owned by Purpose Inc.
###