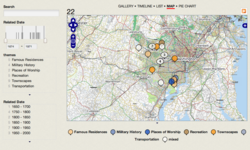 Viewshare is the result of applying the power of the web to help address the preservation needs of the digital cultural heritage community.

-- Eric Miller, President, Zepheira
Reston, VA (PRWEB) February 19, 2012
"The web provides a common platform for reducing the social and technical costs for sharing and reusing data," said Eric Miller, President of Zepheira. "Viewshare is the result of applying the power of the web to help address the preservation needs of the digital cultural heritage community."
The Viewshare project began as "Project Recollection" in 2008 to benefit the partners of NDIIPP (National Digital Information Infrastructure and Preservation Program) who at that time shared content through a simplistic web page. Project goals have been to increase the ability to access and connect information in diverse digital collections and to make them more readily available via the Web, making them easier to discover and share.
"Among our digital preservation partners, innovation is certainly key," said Martha Anderson, Director of Program Management for the National Digital Information Infrastructure and Preservation Program. "Viewshare is an example of such innovation. To date, there are more than 1400 collections of at risk digital content from Library partners that have been made available through Viewshare."
One example of how Viewshare is enabling curators of information to better share their work can be seen in its use with University of Mississippi's Jon Elon Phay Collection. Gloria Gonzalez, a junior fellow at the Library of Congress during the summer of 2010, became passionate about using Viewshare to help tell a story about a collection of historic photographs she had worked with back at the University of Mississippi. "I care about this collection deeply; I worked around 600 hours over the last year scanning the photos and slides while making an Excel sheet of the metadata at the same time." By loading her Excel spreadsheet into Viewshare, Gloria was able to showcase her work along with the resources of the University of Mississippi's archives and make the entirety of this collection available online.
Pamela Williamson, Curator of Visual Collections at the University of Mississippi, and director of the digitization of the Phay Collection explains how the Recollection views supplement the existing online collection: "Recollection [Viewshare] really picks up where our digital collection management system leaves off. It allows the information presented by the collection to be seen and manipulated in a way that builds and expands our online Phay Collection."
The transition of Recollection to the new domain name at Viewshare.org represents a more significant commitment by the Library. The Library and Zepheira continue to actively evolve the project and improve the software to benefit the NDIIPP community. The Library has begun to expand its use to benefit libraries and cultural heritage organizations outside the partnership as well.
For additional information, see the Library's release announcement or the Viewshare screencast.
About Zepheira
Zepheira is an international firm developing sophisticated web catalogues of the sorts of information that actual humans deal with. Zepheira provides solutions that help organizations apply advanced Web technologies to manage, share and enhance information, using the leading edge in web architecture, semantic web and linked data principles. The company's experts have a long history of leading internet standards initiatives and delivering solutions founded in open source software and social computing principles, benefiting a broad range of industries including cultural heritage, manufacturing, financial services and medical research. Zepheira's client list includes US Library of Congress, UN World Health Organization, Eli Lilly, Elsevier, Thomson Reuters, and Dow Jones. The company is privately held and has offices in Virginia, Ohio and Colorado.
For more information about Zepheira or to learn more about FreemixTM, please visit
http://zepheira.com or contact us at:
Zepheira LLC 1818 Library Street, Suite 500 Reston VA. 20190
Email: solutions(at)zepheira(dot)com
Phone: 888-993-1114
###