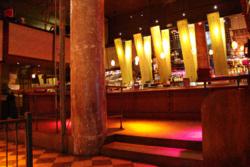 "After 30 years of building S.O.B's into one of the elite music venues in NYC we are honored to finally be showcasing some of the best of Urban Music at SXSW." adds owner, Larry Gold.
New York, NY (PRWEB) February 21, 2012
2012 marks Manhattan live music landmark S.O.B.s' (Sounds of Brazil) thirtieth year in existence and to celebrate, they have partnered up with their talent booking and marketing team, Noizy Cricket!!, and world-renowned International Creative Management (ICM) as well as OGPR Marketing & Public Relations to provide an all star anniversary concert at this year's SXSW, on Wednesday, March 14th. The show is to be held at 6th Street's Malaia World Lounge.
The performance line-up, meant to showcase S.O.B's commitment to musical diversity, includes acts like Miguel, Machine Gun Kelly, and 2 Chainz, as well as rap supergroup Slaughterhouse [Joe Budden, Joell Ortiz, Royce Da 5'9, Crooked I], Elle Varner, Nikki Jean, Maya Azuceña, Airplane Boys & Hoodie Allen. Opening honors will be performed by warm-up alumn, Anthm. AllHipHop, who have supported S.O.B.'s with on-the-scene media coverage for the past decade, is the event's media partner. YouHeardThatNew's infamous founder, Low Key, will host the evening with 2DopeBoyz's DJ Meka providing the musical backdrop in-between sets.
Founded in June of 1982 by owner and director, Larry Gold, on what was then a barren stretch of land at the corners of Varick and Houston Streets, to expose the musical heritage of the Afro-Latino Diaspora, S.O.B.'s has gone on to become renowned as the premier venue for not only World Music, but all genres, in New York City and the world over. The list of music legends to have graced the stage in the past thirty years is too extensive to list but the venue's contributions to connecting music to fans doesn't stop there. S.O.B.'s has also developed a reputation in the industry as a breeding ground for up-and-coming artists and trends. A show at S.O.B.'s can be a springboard for emerging artists, garnering them press from mainstream local, national and even international media as well as attracting attention from music industry professionals. This has been the case with uncounted artists including John Legend, Erykah Badu, Kanye West, Common, Drake and Ryan Leslie. In fact, the venue spawned the long-standing Breeding Ground feature on AllHipHop, on which the site has highlighted its picks from the crop of Hip Hop hopefuls over the years.
The partnership between S.O.B.'s and International Creative Management to present the venue's thirtieth anniversary made perfect sense as the two, working closely with Noizy Cricket!!, have collaborated for many years to provide amazing live entertainment to New York audiences.
"We could have provided an entire month's worth of concerts with all of the talent that has stepped on to the S.O.B's stage over the past thirty years." shares Noizy Cricket!! founder, le'Roy Benros. "We've gathered some of the freshest talent out today who've put on legendary performances here in New York and brought them to SXSW for a night to remember!"
"After 30 years of building S.O.B's into one of the elite music venues in NYC we are honored to finally be showcasing some of the best of Urban Music at SXSW." adds owner, Larry Gold.
"We have been working with Larry and the S.O.B.'s family for many years and this will be a great way to celebrate their 30th anniversary," says ICM Agent, Zach Iser. "Our clients are proud to be a part of this special evening of live music."
Media is encouraged to attend this momentous occasion in New York City's music history at one of the nation's biggest and best music festivals, SXSW. Attendance is free to all on a first come, first served basis with SXSW wristbands and select media will be given access to talent for interview purposes.
ABOUT INTERNATIONAL CREATIVE MANAGEMENT
International Creative Management ("ICM") is one of the world's largest talent and literary agencies, with offices in Los Angeles, New York and London. A cornerstone of the entertainment industry for more than three decades, ICM represents creative and technical talent in the fields of motion pictures, television, music, publishing, live performance, branded entertainment and new media. Under the leadership of Chairman and CEO, Jeffrey Berg, and President, Chris Silbermann, ICM continues to actively seek new opportunities for its clients as emerging technologies reshape the media landscape.
In 2005, ICM completed an equity financing raise from Rizvi Traverse Management and institutional investors to fund strategic growth, and in July, 2006, ICM signed an agreement to acquire literary agency Broder Webb Chervin Silbermann.
ABOUT OGPR MARKETING & PUBLIC RELATIONS
OGPR Marketing and Public Relations, Inc. was founded in 2004 by long-time publicist, Nancy Byron, who had spent the previous eight years as a movie publicist at Warner Bros. Feature Films. In its eight years in business OGPR has contributed to the marketing campaigns of hundreds of artists, both independent and major label and made a name for themselves nationwide.
ABOUT NOIZY CRICKET!!
Noizy Cricket!! Was founded and launched in 2007 by CEO le'Roy Benros. First starting off as a joint venture management company with Violator and taking on acts such as Charles Hamilton & Das Racist; it grew into a digital marketing/branding and talent buying company by 2011. Noizy Cricket!! has been introducing and breaking new talent at SOBs since early 2011.
ABOUT ALLHIPHOP
AllHipHop.com was founded and launched in 1998 by CEO's "Grouchy" Greg Watkins and Chuck "Jigsaw" Creekmur. After many years of developing the site, AllHipHop.com has become a valuable resource for hip-hop on the internet, featuring daily news, interviews, reviews, multimedia, a fast growing community and other interesting content.
*AllHipHop.com is the most widely read Hip-Hop entity in the world, reaching millions of unique visitors per month.
*Traffic audited and measured by comScore Networks
For further information, kindly contact Nancy Byron, OGPR Marketing & Public Relations (832) 220-6071 or NancyB(at)ogpr(dot)net
@SOBs @NoizyCricketLB @AllHipHopcom @ZachIser @RapPublicist @SXSW
# # #