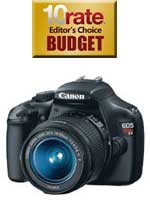 The 1280×720 HD quality is great if not superb, but you may prefer more manual control over the shooting options..
Atlanta, GA (PRWEB) February 20, 2012
10Rate reviewer Jack Burden and other 10Rate staff selected 10 of the best Digital SLR Cameras for 2012 based on the following criteria:
1. Megapixels
2. Video and audio quality
3. Button and menu interface
4. Battery life
5. Anti-shake technology
6. ISO level and minimal noise
7. LCD screen size and articulation
8. Shutter speed and burst mode that take continuous shots quickly (measured in frames per second)
9. Weight, build, and durability
10. Value for the price
The annual 2012 Top 10 Best Digital SLR Cameras awards list was topped by the Canon EOS 30D winning the top quality spot and a 9 out of 10 rating. The review noted several strengths of the maker including the following:
"Low speed at 3 fps and high speed at 5 fps
Derives its power from a lithium battery pack
Yields sharp images in 16″x22″ prints
9 focus points can be selected manually or automatically
Compatible with all Canon EF and EF-S lenses
CMOS sensor technology reduces noise"
The best value Digital Camera as rated by the authors was the Nikon D5100 Review which editors noted is strong in many areas such as the following:
"An affordable digital SLR camera from Nikon, the D5100 has just enough automatic and manual controls to please the photography enthusiast. A bit heavy and bulky at 1.2 pounds, it has a vari-angle LCD monitor that swivels to any position, letting you take pictures from multiple angles easily. The HDR mode combines the high and low exposures to form one image with all the highlights and shadows in sharp detail. For $799, the Nikon D5100 has excellent video capabilities and fast continuous shooting at 4 frames per second."
Next, the best budget award from the Best Digital SLR Camera Reviews was the Canon EOS Rebel T3 Review. Commentary from Burden about this camera noted, "For $454.95, this is a moderately priced, entry-level digital SLR with enough automatic and manual controls to satisfy both photography students and camera experts. Its video recording capabilities are high quality, with extended recording and editing options you can perform straight from the camera. The 1280×720 HD quality is great if not superb, but you may prefer more manual control over the shooting options."
Canon had 4 models in the list of Comparison Digital SLR Camera Ratings while Sony and Nikon each had two entries.
10rate.com conducts reviews in various product and services categories and publishes "Expert Top 10 Lists for Everything in your life." The company's web site strives to "Make it Easy" to select from the hundreds of choices there are in the product and service market place. All products and services are thoroughly researched by the companies expert editors prior to receiving a rating on a 1-10 scale. In addition to product reviews the companies editors write guidelines, buying guides and articles on various topics surrounding each product or service category covered to help educate the consumer.
###