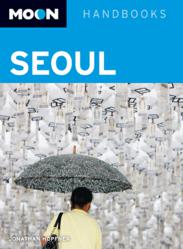 A number of attractions and experiences lie within easy reach of Seoul's financial districts.
Berkeley, CA (PRWEB) February 28, 2012
Seoul's rapid-fire economic growth has been accompanied by a boom in the number of foreign executives visiting the city for events or to scout out business opportunities. Tight schedules often prevent business travelers from seeing and experiencing all they would like, but a number of attractions and experiences lie within easy reach of Seoul's financial districts, and the city's trademark efficiency makes it possible to take in a lot, even on a short trip. Here, Moon Seoul travel guidebook author Jonathan Hopfner provides 10 tips for executives looking to merge tourism with business meetings:
1. Remember the cardinal rules of local commerce in Seoul: dress conservatively, arrive to meetings on time, and carry an inexhaustible supply of business cards.
2. Start a business meeting over an exquisite and healthy Korean lunch at Congdu in the Seoul Museum of History, an elegant, understated venue that's the ideal place for a gathering.
3. When visiting the Gwanghwamun/City Hall Business district, spend an hour between meetings at Gyeongbokgung, the grandest of Seoul's former royal abodes.
4. For an after-work event in Cheonggyecheon, take coworkers to JS Texas for cold beers and snacks. For an upscale meeting, take a colleague to the sky-high Top Cloud restaurant and bar in Jongno Tower.
5. For those headed into Gangnam, the financial district south of the Han River, stop by Butterfinger Pancakes for a western-style breakfast or brunch.
6. In Gangnam, take time to stroll through the tombs of ancient rulers in Samneung Park, or visit Bongeunsa, one of the city's largest and most active Buddhist Temples.
7. Be sure to visit the COEX mall while in Gangnam. In addition to a wealth of shops and restaurants, it also houses a convention center that regularly hosts major business and trade events.
8. Schedule in time between meetings in Yeouido, the headquarters for many of Korea's broadcasts and security firms, to take in the beautiful riverside Yeouido Park.
9. Take time to visit the Yongsan Electronics Market to check out the latest in executive gadgets.
10. After finishing a slew of meetings, be sure to relax at the Dragon Hill Spa in the Yongsan area, followed by a visit to the National Museum of Korea.
For more information on planning a business trip to Seoul, or more detailed travel tips and advice on traveling to Seoul, visit the Moon Travel Guides website.
About Moon Travel Guides | Moon.com
Moon Travel Guides make independent travel and outdoor exploration fun and accessible. With expert writers delivering a mix of honest insight, first-rate strategic advice, and an essential dose of humor, Moon guidebooks ensure that travelers have an uncommon and entirely satisfying experience. Moon not only guides, Moon inspires. Based in Berkeley, Calif., Moon is published by Avalon Travel, a member of the Perseus Books Group.
###