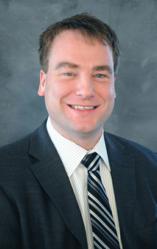 Following this past year of unprecedented sales growth, I'm excited to see the ways in which additional partnerships will be cultivated.
Chicago, IL (PRWEB) February 20, 2012
Tripp Lite, a world-leading manufacturer of power protection and connectivity solutions, announced today that Bob Nahorski has been named one of CRN's 2012 Channel Chiefs. This prestigious list of the most influential and powerful leaders in the IT channel recognizes those executives directly responsible for driving channel sales and growth within their organization, while evangelizing and defending the importance of the channel throughout the entire IT industry.
Nahorski, responsible for overseeing Tripp Lite's US Channel and field sales organization, accomplished key initiatives in the past year such as driving monumental sales growth and providing channel partners with an expanded list of support tools, including dedicated free tech support and free solution integration services for rackmount and cloud/data center customers. He increased marketing support dedicated to the channel to expand Web content, tools (e.g., online configuration guides), SEO and attachments. Under Nahorski's leadership, Tripp Lite has been named "Partner of the Year" by both Insight and CDW, "Supply Chain Excellence Award Winner" by Ingram Micro, "Best Channel Vendor" by Business Solutions, and "Preferred Supplier Program Award Winner" by United Stationers.
For the ninth consecutive year, Channel Chiefs were selected by the CRN editorial team based on channel experience, program innovations, channel-driven revenue and public support for the importance of IT Channel Sales.
"With nearly two decades of dedication to Tripp Lite under his belt, Bob is assuredly deserving of this recognition from CRN," said Glen Haeflinger, Tripp Lite President. "Following this past year of unprecedented sales growth that occurred as a testament to his incredible leadership and unwavering commitment to the success of our channel partners, I'm excited to see the ways in which additional partnerships will be cultivated and cemented under his guidance."
"I'm honored to have joined the ranks of so many noteworthy peers in CRN's annual listing of Channel Chiefs," said Nahorski. "However, we're determined to position Tripp Lite and our partners for even greater success this year!"
"The 2012 Channel Chiefs list recognizes vendor executives dedicated to driving channel programs in the IT marketplace," said Kelley Damore, VP, Editorial Director, UBM Channel. "Our annual Channel Chiefs issue is a must-read for IT solution providers evaluating new vendors or looking to expand solution offerings. These are the people, the products and the programs that any savvy solution provider needs to know. We congratulate this year's Channel Chiefs for their stellar record of business innovation and applaud them for their continued dedication to the partner community."
Selected by CRN's editorial staff, the 2012 Channel Chiefs list is featured in the February issue of CRN magazine and will be featured online at http://www.crn.com
About Tripp Lite
Outstanding product reliability and exceptional service have been Tripp Lite trademarks for 90 years. Tripp Lite's innovations include the world's first UPS system designed specifically for personal computers, and the world's most trusted premium surge suppressor--the Isobar®-with more than 18 million in use. Tripp Lite maintains the highest level of ready-to-ship inventory in the industry with more than 2,500 different products, including UPS systems, rack systems and cooling solutions, PDUs, PowerAlert software for enterprise-level system management and control, surge suppressors, KVM switches, cables and connectivity products, inverters, power strips and notebook accessories. Headquartered in Chicago, Illinois, Tripp Lite maintains a global presence with fully staffed offices worldwide. Additional information, including a list of Tripp Lite's sales offices and authorized reseller partners, can be found by visiting Tripp Lite's website: http://www.tripplite.com.
About UBM Channel:
UBM Channel is the premier provider of IT channel-focused events, media, research, consulting, and sales and marketing services. With over 30 years of experience and engagement, UBM channel has the unmatched channel expertise to execute integrated solutions for technology executives managing partner recruitment, enablement and go-to-market strategy in order to accelerate technology sales. UBM Channel is a UBM company. To learn more about UBM Channel, visit us at http://www.ubmchannel.com.
UBM plc
UBM plc is a leading global business media company. We inform markets and bring the world's buyers and sellers together at events, online, in print and provide them with the information they need to do business successfully. We focus on serving professional commercial communities, from doctors to game developers, from journalists to jewelry traders, from farmers to pharmacists around the world. Our 6,000 staff in more than 30 countries is organized into specialist teams that serve these communities, helping them to do business and their markets to work effectively and efficiently. For more information, go to http://www.ubm.com.
###