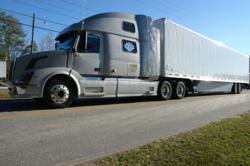 We have received reports of customers saving in excess of 10% in diesel fuel consumption after installing TransFoil Aerodynamic Side Skirts on their trailers.
Thomasville, Georgia (PRWEB) February 18, 2012
Georgia based manufacturer TransFoil Systems reports seeing a recent spike in demand for Aerodynamic Trailer Side Skirts. These side skirts, also called aerodynamic skirts, wind skirts, or belly fairings, are engineered to reduce the amount of wind turbulence underneath semi trailers, refrigerated trailers, and container chassis. The results have been so pronounced, says Lucas Stewart, president & CEO of TransFoil Systems, that even he has been surprised. "We have been receiving testimonials from TransFoil customers who report saving as much ten or eleven percent on their overall diesel fuel consumption. And these fleet operators are very sophisticated. They are arriving at these calculations using their trucks' on-board computers. We knew that our patent-pending design was good, but we didn't expect it to be quite that good."
Mr. Stewart goes on to observe that he was expecting typical savings of 5-7%, which is par for the course for aerodynamic trailer side skirts, and he was pleasantly surprised when the latest round of design improvements added significantly to those results.
Aerodynamic trailer skirts are bolted onto the underside of semi trailer dry vans, refrigerated vans (reefers), and container chassis using a simple bolt-on system that can be easily removed without any damage or modification to the trailer. This is important for companies that lease their trailers, as they are typically not permitted to make permanent modifications to the equipment without incurring substantial penalties.
Mike Pendergast, TransFoil's Vice President for Manufacturing, commented that, "TransFoil Side Skirts are unique in the industry, in that they spring-in up to 60 degrees, and they hinge-out 90 degrees to allow for easy access to the underside of the equipment. The last thing that any operator wants to deal with while out on the road is the hassle of working around a one-piece composite skirt that is always getting in the way during tire changes, hose checks, and inspections. As far as I am aware, there is no other product on the market that operates like our three panel system."
TransFoil Aerodynamic Trailer Skirts are also different, as they are manufactured out of proprietary material that lends itself to direct printing via large format printers. This allows owner/operators and fleet owners to customize their skirts to match the company's branding, carry advertising, or otherwise communicate some message to the motoring public. The top of the trailer skirts site about three feet off the ground when installed, so they are right at eye-level for motorists traveling in cars.
According to company spokesperson Matt Williams, "We expect to see a continued rise in demand for aerodynamic trailer side skirts over the next year to eighteen months as truck owner/operators and fleets scramble to comply with the California Air Resources Board mandate that all trucks be outfitted with trailer skirts by 2013."
TransFoil Systems is a division of Harbor Enterprises located in Thomasville, Georgia.
###