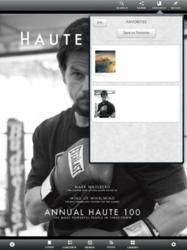 The launch of the flipbook signifies Haute Living truly becoming a global entity
New York, New York (PRWEB) February 20, 2012
Haute Living, a top source for luxury news, launched a mobile application, which will allow universal access to the magazine's exclusive content. The app, available in the iTunes store and compatible with Apple products, features a flipbook produced using top of the line, interactive technology. Previously only available through private distribution, Haute Living Magazine's flipbook mobile app can be accessed by all and will upload the most current issues of the publication automatically, all free of charge. Haute Living Magazine is printed in the New York, Miami, San Francisco, and Los Angeles markets but is favored as a source for luxury news worldwide—with the strongest demand from readers in the U.S., Hong Kong, United Arab Emirates, United Kingdom and Russia.
"With website traffic of 20,000 unique visits per day and 100,000 subscribed to our weekly email, we identified a need for greater and more global accessibility to our content," said Haute Living publisher Kamal Hotchandani.
Though Haute Living Magazine's print distribution is private and exclusive—stocked in entities such as five star hotels world wider, onboard private jet flights and FBOs, and an exclusive mailing list of a propriety list of high value homes—the innovative nature of the flipbook will bring the same experience to individuals around the world, plus far greater opportunities for advertisers and editorial features to reach increasing audiences without boundaries.
"We're very excited to bring our regional content to all markets. The launch of the flipbook signifies Haute Living truly becoming a global entity," said Haute Living publisher Seth Semilof.
The publishers believe that greater accessibility will not compromise Haute Living Magazine's current reputation as an elite and exclusive publication, but rather will enhance the magazine's clout by bringing greater brand awareness, more views for editorial feature subjects, and opportunities for advertisers to reach greater audiences in innovative manners. One such advantage the flipbook provides for advertisers is that their advertisement will be linked directly to the advertiser's website. As such, readers can buy advertised items almost instantly just by tapping the advertisement. Additionally, advertisers will have seamless access to viewing their advertisements for their own media kits, presentations and the like.
Haute Living Magazine's mobile app is a model for the future of the magazine business and will astronomically increase the value of advertising or purchasing added value in the publication. Haute Living Magazine is launching versions of the mobile app for Kindle and Android technologies within 30 days.
The market specific applications are available immediately for Apple products in the iTunes store. To read more about each one, please visit the iTunes store.
Haute Living New York: http://itunes.apple.com/us/app/haute-living-new-york/id498360842?mt=8
Haute Living Miami: http://itunes.apple.com/us/app/haute-living-miami/id498495882?mt=8
Haute Living Los Angeles: http://itunes.apple.com/us/app/haute-living-los-angeles/id498502124?mt=8
Haute Living San Francisco: http://itunes.apple.com/us/app/haute-living-san-francisco/id496941809?mt=8.
About Haute Living:
Haute Living Magazine is a national luxury lifestyle magazine published in four markets—New York, Miami, Los Angeles, and San Francisco. Haute Living Magazine features the top entrepreneurs, businesspeople, and notables in each market. Haute Living Magazine also highlights the best in luxury consumer goods, culinary hot spots and events. Haute Living recently redesigned its website and re-launched its Haute Time (http://www.hautetime.com) and Haute 100 (http://www.haute100.com) websites for state-of-the-art user experiences.
For more information, please visit: http://www.hauteliving.com
# # #