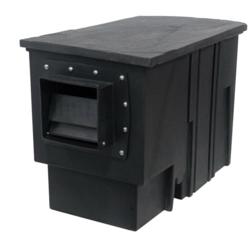 The new Axiom skimmers are well constructed for function, ease of servicing, and affordably priced
Independence, MO (PRWEB) February 21, 2012
All new for 2012, KoiPondFever.com is now offering the complete line of Axiom Pro-Series pond skimmers by EasyPro. They have a two chamber front to back design - with pump chamber sitting behind the debris net instead of alongside it. The two chamber design eliminates cutting filter pads to fit around the pond pump and plumbing. One piece aluminum framed debris net makes for quick and easy cleaning and filter brushes provide mechanical filtration without clogging. The skimmers have a flange around the opening where water enters from the pond into the skimmer, allowing to not only stack rocks along the sides but also above the skimmer opening. Bulk head fittings and stainless steel hardware for securing the liner are included. "The new Axiom skimmers are well constructed for function, ease of servicing, and affordably priced," states RC Moore, owner of KoiPondFever.com.
EasyPro has always been known for their large size pond skimmers with plenty of room for servicing the submersible pump. Even adding a second pump is easily accommodated by an EasyPro skimmer without making modifications. The new Axiom skimmers, models PSA9000 and PSA11000, are also built to accommodate two pumps. No other skimmer on the market does this except for the Atlantic Big Bahama. Axiom skimmers are available in 4 models with maximum flow rates from 5,000 to 11,000 GPH.
The new PSA3600 Axiom skimmer filter combines both mechanical and biological filtration. It has the same front to back design and includes debris net and filter brushes for mechanical filtration and UTM1 biological media for complete filtration. Ultimate Tube Media is round media with multiple internal baffles that create tremendous additional surface area for biological filtration without clogging. The PSA3600 has a maximum flow of 3600 GPH with an 8 inch water inlet.
Axiom skimmers are built in the USA and EasyPro has a proven track record of building high quality pond supply products. Whether building a new koi pond or water garden, maintaining an existing pond, or upgrading equipment, KoiPondFever.com is the place to shop on line for pond supplies and pond plants. Most orders ship the same day and the service and advice is exceptional.
###