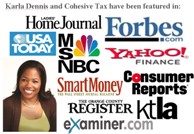 "Karla Dennis is a consummate professional. Her tax planning strategies have made a huge impact on our tax picture." - Pierre la Pres
(PRWEB) February 20, 2012
This is an announcement of a webinar to be given by one of the nation's foremost financial and tax experts, Karla Dennis.
Join her for a web conference, which was scheduled at the request of a closed door group requesting here exclusive services. She is making this information available to the public at no charge, due to the importance of this information during tax time.
What this means to every attendee:
Karla is well aware of the pitfalls that await the unsuspecting taxpayer. Never is this more evident during tax time in the midst of tax filings. Oftentimes, people make common mistakes that they are not aware of until it is too late.
The goal of this is to educate and inform. Anyone can learn to take the information from an expert and apply it to their tax filing.
The invitation is open to anyone who hasn't had the pleasure of hearing Karla speak on her specialty. Click Here To Register For The Webinar.
Karla Dennis is the Founder and CEO of Cohesive Tax, which is a tax consultant firm. Karla Dennis is actively sought as a tax expert by the media and has been quoted by Smart Money, CNBC, Consumer Reports and MSNBC. She actively speaks to various business leaders, executive organizations, trade groups, community factions and civic gatherings and area Chambers of Commerce.
###