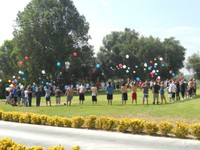 "Now, [Riverside] is ground zero for the housing crash and there is just a lot of stress and despair to go around. Where you find stress and despair - addiction will follow." - Mike Hurst, Sunrise Recovery
Riverside, CA (PRWEB) February 19, 2012
Sunrise Ranch has been providing drug treatment to men for over 10 years in Riverside, California. For the last 2 years, Sunrise Ranch has also been offering drug and alcohol detoxification.
Sunrise Ranch has partnered with 4 other local treatment centers to host unified recovery oriented events that will strengthen the overall recovery community in Riverside - an area that has been strongly affected by drug and alcohol abuse.
The other 4 facilities include:

Whiteside Manor
10 Acre Ranch
Cedar House
MFI Recovery Center
Starting with the occasional softball tournament, the treatment centers' staffs and clients had been getting to know each other over the course of the last couple of years. Then, the main catalyst for the formation of the coalition was a very succesful and unified Recovery Month event during National Recovery Month in 2011 (September). The "Coalition of Recovery" is now making plans for more of these types of positive events.
"Riverside is kind of like the capital of the Inland Empire - an area that was strongly impacted by the wave of crystal meth addiction that was so prevalent in the 1960s," says Michael Hurst of Sunrise Recovery Ranch. "Now the area is ground zero for the housing crash and there is just a lot of stress and despair to go around. Where you find stress and despair - addiction will follow."
The coalition of treatment centers will take turn hosting events like:

softball tournaments
barbeques
12-Step recovery meetings
an annual Recovery Month event
Many of the individuals who are in treatment can grow their support network by meeting like minded recovering individuals at events like these. Studies show that men who participate in a recovery community like Alcoholics Anonymous are much more likely to achieve a sustained period of sobriety.
"Recovering individuals thrive in like minded communities. A man who shares his experience with others will facilitate his own healing and recovery by processing what he has been through. Knowing that you are not alone in your recovery from addiction is also comforting and contributes to a recovery program," says Mike Hurst.
"That's why it is so powerful that these Riverside treatment centers are working together rather than against each other... it will increase the effectiveness of their treatment," says Mike Hurst. Also, there is sadly a surplus of addiction going around - so there is plenty of work to be done."
More about Sunrise Recovery
Sunrise Recovery is part of the Sober Living by the Sea network of treatment centers. Sober Living by the Sea is a member of CRC Health Group, the nation's leading comprehensive network of specialized behavioral healthcare. Since 1995, CRC's passion for delivering advanced treatment has helped individuals and families reclaim and enrich their lives.
Please call 866-540-5242 or visit the Sunrise Recovery website (http://www.DrugRehabRanch.com) for more information.
###