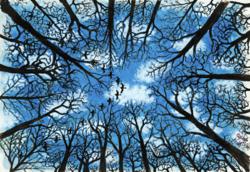 San Diego, CA (PRWEB) February 22, 2012
For the past seven years, Odyssey Hospice San Diego has found a meaningful and inspirational way to extend expressions of condolence and comfort to family members that are grieving the loss of loved ones.
The palliative care provider sends each family in mourning a bereavement card that features "Winter Woods," a compelling watercolor created by San Diego artist John Francis Peters.
Odyssey Hospice San Diego, which is a member of the Gentiva "family of health care companies," a nationwide leader in home health care and hospice, is not only committed to improving the quality of life for patients with terminal diagnoses, but also to providing support and comfort for caregivers and family members.
Sending sympathy cards to families that have used Odyssey Hospice San Diego's services is a testament to the compassionate outreach that the hospice provides.
In 2004, Alexis Solomon, the bereavement coordinator at Odyssey Hospice San Diego, first discovered Peters' watercolor, "Winter Woods," while at a coffee shop in the city. The mesmerizing image was included in a collection of note cards the artist had on display and for sale at the coffee shop. Soon after, Solomon contacted Peters and asked him to design bereavement cards for Odyssey Hospice.
Peters created the original painting in 1997.
"Nature is my guide and the vehicle for my creation," Peters comments. "I was moved and inspired to paint "Winter Woods" after I had taken a walk in a wooded area during a long, dark winter. While exploring my surroundings, a distant, yet familiar song grew strong and louder, breaking the cold silence. As I gazed up through the bare trees, a flock of Canadian geese sailed with the clouds. I can recall chills of joy warming my spirit, and I was reminded that long-time friends guide Spring."
Through the years, Solomon has received many heartfelt messages from family members who have received one of Peters' "Winter Woods" bereavement cards.
One recipient, whose husband had passed, shared a poignant memory with Solomon.
"The woman had expressed to me how deeply John's vision touched her and how important it was to her personally," Solomon says. "She told me how she and her husband would travel together each season to watch the geese migrate. I then shared John's story that originally inspired the beauty of the painting. She framed the bereavement card, and it still remains on her husband's altar."
An accomplished artist who works in oil on canvas and watercolor, Peters explains that the essence of each of his paintings has been inspired by a deep-felt spiritual desire to preserve the beauty of nature with masterful strokes of the brush. "My creative process," he says, "would not be possible without this clear, meaningful purpose."
A large collection of Peters' works of art can be found online at http://www.johnfpeters.com, the Web site which he embraces as a vehicle to share his images with others worldwide who hold nature and its inherent beauty in high esteem.
An artistic assortment of mini-prints, journals, greeting cards and other collectible items featuring Peters' work also are available at cafepress.com.
For more information about the artist and his work, contact John Francis Peters by sending an e-mail to JFPeters(at)aol(dot)com or by visiting his Web site, http://www.johnfpeters.com.
###