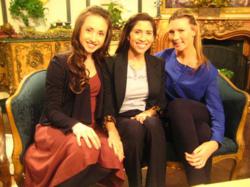 "Eating disorders have the highest mortality rate of any psychiatric illness out there," - Michelle Smith.
Newport Beach, CA (PRWEB) February 19, 2012
Michelle Smith, program director at The Victorian treatment center for eating disorders recently was included on a panel hosted by the television show Public Affairs - Joy in Our Town which airs on the Trinity Broadcasting Network.
The purpose of the episode was to raise awareness about anorexia and bulimia which is affecting women and men in increasing numbers. The shows host asked a variety of questions about eating disorders and the treatment of eating disorders.
Michelle provided expert answers to the questions she fielded eating disorders' causes, symptoms, and ill-effects of eating disorders.
"Eating disorders have the highest mortality rate of any psychiatric illness out there," said Michelle Smith at a pivotal moment in the show.
Michelle was one of three experts on eating disorders. One of the other panel members was Irvina Kanarek, who is the author of the premier eating disorder blog on the world wide web, and is also the founder of Rewrite Beautiful (http://www.RewriteBeautiful.com). Rewrite Beautiful is a philanthropic organization that specializes in educating young women about positive ways to strive for and evaluate true inner beauty so that the young women appreciate more meaningful attributes than surface beauty. Irvina talked extensively about educating young people through enjoyable workshops and street art.
The third eating disorder expert came in the form of an eating disorder survivor, Robyn B. Robyn discussed in detail her descent into disordered eating and also her recovery.
More about The Victorian
The Victorian is part of the Sober Living by the Sea network of treatment centers in Newport Beach which has been a premier provider of treatment for alcoholism, drug addiction, and eating disorders for more than 25 years.
Sober Living by the Sea is a member of CRC Health Group, the most comprehensive network of specialized behavioral healthcare services in the nation. CRC is committed to making its services widely and easily available while maintaining a passion for delivering advanced treatment. Since 1995, CRC has been helping individuals and families reclaim and enrich their lives.
Please call 888-268-9182 or visit the The Victorian Program website (http://www.EatingDisorderTreatment.com for more information)
###