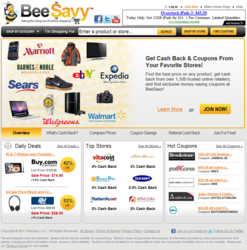 I have researched a lot of online shopping programs and BeeSavy has the highest cash back payout for most retailers; and with the 7-layers of tiers, you get the most bang for your buck! - Jennifer Medeiros, Makobiscribe.com
SYRACUSE, NY (PRWEB) February 22, 2012
BeeSavy.com's free online shopping portal achieves an Alexa US traffic rating of 10,000. BeeSavy is the first site to integrate comparison shopping, coupons, cash back, and referral cash back to save customers time and money.
BeeSavy is based on the premise that the internet should make shopping easier and more rewarding. To that end, BeeSavy scours the internet to find users the best prices at nearly 2,000 top online stores. It also takes into account any applicable coupons and tax and shipping to ensure shoppers are getting the lowest total price. Finally, BeeSavy pays a cash back rebate on all purchases.
To stand out in the crowded online shopping and deal industry, BeeSavy gives users an innovative way to earn money as well as save. Other shopping sites give users a small, one-time incentive to refer their friends. BeeSavy helps users build an additional revenue stream by paying them referral cash back on everyone they refer forever. They also give users all of the tools they need to engage their social networks and grow their referral cash back.
This referral cash back model is being very well received in the industry. "I have researched a lot of online shopping programs and BeeSavy has the highest cash back payout for most retailers; and with the 7-layers of tiers, you get the most bang for your buck!" says Jennifer Medeiros of Makobiscribe.com.
The benefits aren't just for users. With the current retail climate, retailers are looking for more efficient ways to spend their advertising dollars and earn a measurable return. Most advertising models require advertisers to pay for ad impressions. With BeeSavy, retailers only pay a commission when they get a sale, and BeeSavy then uses this commission to pay users cash back.
"The most common question we get is 'It sounds too good to be true…what's the catch?'" says BeeSavy Founder, Robert Honer. "But the fact is; retailers like BeeSavy because they only pay if they get a sale. And users like BeeSavy because not only do we find them the lowest prices, but we pay them cash back to shop through the site. It's truly a win-win."
To learn more about BeeSavy, visit http://www.beesavy.com.
About BeeSavy:
BeeSavy is the first online shopping site to help users save money and even earn money shopping online. BeeSavy combines comparison shopping, coupon discounts, cash back, and referral cash back to ensure users get the best price. With nearly 2,000 of the most trusted stores on the web, users can find almost any product and earn cash back on their purchase. Through referral cash back, users are paid commission forever on all of the friends they refer to the site. BeeSavy…taking the sting out of online shopping.
###