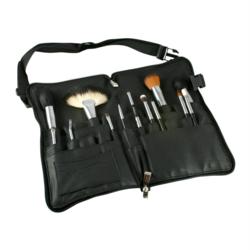 Riverview, Florida (PRWEB) February 20, 2012
Sedona Lace, one of the nation's leading providers of professional quality makeup brushes and supplies, has today released their latest offering – the Vortex Collection of makeup brushes with an attractive, convenient zipper belt.
Sedona Lace's newest makeup brush collection includes 13 specialized make up brushes to help achieve professional results. The jumbo fan face brush is multipurpose and is ideal for applying foundation, catching loose powder or evenly distributing blush or bronzer. The tulip contour brush features a pointed tip with tapered bristles for blending, but can be used for multiple purposes.
The make up brush set also includes a dome contour face brush, a flat top buffer, a universal blender, a flat synthetic eye brush, a synthetic blender, pointed crease eye makeup brush, brow spoolie duo brush, bent liner, detail shader, angled detail brush and a capped lip brush. Each make up brush features a high quality black handle for a secure grip, while both natural and synthetic bristles ensure the best coverage and comfort. Synthetic bristles are also impermeable, and will not stain from liquid or cream foundations.
The Vortex Collection of makeup brushes is contained in an attractive, convenient black brush belt, perfect for keeping these professional makeup brushes organized and close at hand for immediate use. Part of the belt's innovative design is the fact that it doesn't roll closed – the Vortex Collection comes actually features a zippered brush belt to keep your make up brushes secured at all times when not in use.
The all-new Vortex Collection offers professional results, tremendous versatility and the best security for makeup brushes.
To find out more about the Vortex Collection of makeup brushes, to see other beauty products and find out what else is available through Sedona Lace, visit the company at http://www.SedonaLace.com.
About Sedona Lace: Sedona Lace specializes in providing their customers with the highest quality cosmetics and application brushes to achieve professional results. From metals to pastels and earth tones, customers will find everything they need to create the look they desire with the professional quality selections from Sedona Lace.
###