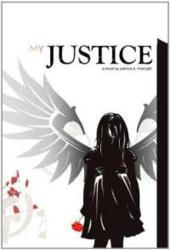 My Justice by Patricia McKnight is an incredible call-to-arms against domestic violence, but it is so much more than that: it is a story of how to live in freedom . . . Best-selling author Peter Thomas Senese
St. Louis, MO (PRWEB) February 19, 2012
Patricia A. McKnight is pleased to announce the publication of her highly acclaimed inspirational novel "My Justice" that has been called a call-to-arms against domestic abuse as well as a road-map for freedom for those imprisoned by the cycles of abuse. In this heralded and incredible new novel, "My Justice", the talented author, Patricia A. McKnight, will sweep you away in the madness of abuse and domestic violence. In 'My Justice', Ms. McKnight takes her readers into a journey to find the happiness once ripped away due to severe domestic abuse, as the author's story of courage and bravery to break the chains of abuse hope to empower other individuals caught in the world of abuse to become free.
Critics and readers have stated that Ms. McKnight has written an outstanding and highly inspirational novel that gives each reader a map of awareness and escape from the silence that traps so many of its victims. The main character of this novel, "Trecia Ann", is sharing the voice of the little girl who could never speak out of the neglect and horror that filled her world. She became so engulfed in the household of cruelty that it created a path that she would travel for over thirty years.
This true survival story will take you on an exploration of mind and soul. You will walk through life in the eye's of a young girl. Readers will experience the fears, dreams, wishes and darkest fears of a child. You will hear her cries, feel her rage and be overcome by her years of sadness; in the end to be lifted by her triumphant happiness. This novel will have you on the edge of your seat from start to finish. You will be taken on a ride that will reach the depths of your moral fortitude, which most leave untouched. "Trecia Ann" will have you crying and screaming, demanding justice for all. After all, this is only the story of one, of many, of the abused.
Author, Patricia A. McKnight explains; "It is only after years of healing that I am able to bask in freedom and the happiness that was chased, but have chosen to remove the coal stained hand that held me silent. The horrific secrets and the behaviors of a "trained" abused child are now being shared. We all deserve to have roses in our garden of life and it is by talking that we can truly help to educated and protect those who cannot speak out and protect themselves"
Many reviews have been received on this new novel and the deepest of those are from people of this child's past who speak out about the girl who was lost in the cracks of blindness. One such person was her fourth grade teacher, who is now retired but still involved in up and coming teachers.
Retired School Teacher, Ms. Linda Walcher, strongly praises: "This novel is a teaching of awareness for anyone who has direct contact with children to the extreme tragedy of neglect that is so commonly overlooked, but which can be the beginning signs of something much deeper. As a teacher, a mother, a person who cherishes all children; this amazingly well written novel made me want to scream and beg for others to read the details that are so exceptionally shared in the glorious strength of a child's words."
Best selling author, Child Advocate, Peter Thomas Senese; Director of I CARE Foundation comments: "Ms. McKnight has a beautiful story that she shares, one that is surely about abuse; however, "My Justice" is more about the mankind's and the human spirits capability and capacity to triumphantly bask in the magic of freedom no matter how dark the present may be. Undeniably, this is a story of good over evil, a story of freedom over slavery, a story of courage over fear, and a story that does not simply entertain at the highest level, but it educates, makes us think, and makes us want to do better with respect to our own interactions with one another."
# # #