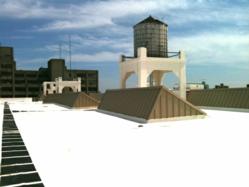 The second location will more than double the current farm's acre of growing space and manage more than one million gallons of NYC stormwater,
(PRWEB) February 21, 2012
Brooklyn Grange, New York City's first commercial rooftop farm, will be expanding their operations in the spring of 2012 to the roof of Building No. 3 at the Brooklyn Navy Yard.
Funded in large part by a Green Infrastructure Grant from the Department of Environmental Protection, Brooklyn Grange and Brooklyn Navy Yard will contribute the remaining funds needed to complete the installation of 45,000 sq ft of productive greenroof at 63 Flushing Avenue.
The second location will more than double the current farm's acre of growing space and manage more than one million gallons of stormwater, in line with the DEP's mission to reduce combined sewage overflow and improve water quality in New York City. Brooklyn Grange will work closely with the Brooklyn Navy Yard Development Corporation and the farm's educational non-profit, City Growers, to create training programs, community partnerships and provide fresh produce to the surrounding area.
"Brooklyn Grange's new rooftop farm will be another cutting edge green infrastructure improvement at the Navy Yard." said BNYDC President & CEO Andrew Kimball, "We are delighted to partner with City DEP and the Grange on this unique project that will not only reduce storm water runoff but create jobs and provide access to fresh produce for the community."
Brooklyn Grange will grow a variety of crops on the roof, including but not limited to heirloom tomatoes, herbs, peppers, kale, chard, eggplant, beans, cucumbers, and of course the farm's signature flavorful greens.
"The Navy Yard is a great location. We are excited to double our farming area, ramp up our local vegetable production, and to green another New York City rooftop," said Brooklyn Grange head farmer Ben Flanner.
Installation is slated to commence this spring, and the project will be up and running by summer 2012.
About Brooklyn Grange
Brooklyn Grange is a commercial, sustainable farm located on the roof of the Standard Motors building in Long Island City. Brooklyn Grange is the largest privately owned and operated rooftop farm in the United States, supplying the local community with high-quality, local food through green markets and a CSA program. While a functioning business, Brooklyn Grange is also proud to fulfill its role as a community center, providing school groups, families and volunteers a forum for learning about and participating in urban farming and the local food supply.
About Brooklyn Navy Yard
The Brooklyn Navy Yard, once known as America's premier shipbuilding facility, is today known for so much more. With such diverse businesses as movie studios, furniture manufacturers, ship repairers, architectural designers, electronics distributors and jewelers, the Brooklyn Navy Yard isn't just filled with a storied past. It's also filled with a promising future. Visit BLDG 92, our new exhibition and visitors center, to explore the Navy Yard's past, present and future.
###