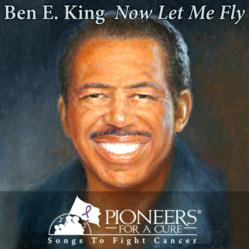 I want you to STAND BY ME to fight cancer! - Ben E King
New York, NY (PRWEB) February 21, 2012
Ben E King's longstanding support of St. Jude Children's Research Hospital is furthered with his update to Now Let Me Fly which 'references the biblical story of Ezekiel's Wheels. The song talks mostly of a promised land. This song might have boosted the morale and spirit of the slaves, giving them hope that there was a place waiting that was better than where they were.' (Wikipedia)
Now Let Me Fly can be found on iTunes at http://itunes.apple.com/us/album/pioneers-for-a-cure-now-let/id478519219.
The song can be found on Amazon at http://www.amazon.com/gp/product/B0063PGDPC/ref=dm_ty_trk
Pioneers For A Cure - Songs To Fight Cancer is pleased to offer this track and over 100 other songs to fight cancer on our own website, where over half our donors have upgraded their donations to fight cancer.
Possessing one of the most elegant baritone voices ever, Rock & Roll Hall of Fame alumnus Ben E. King's imprint on the musical landscape is so indelible that an optimum barometer has been set for countless aspiring performers.
'Now Let Me Fly' is a song of the Underground Railroad which references the biblical story of Ezekiel's Wheels. The song is given a stellar reggae arrangement in Ben E. King's version for Pioneers For A Cure. The track is produced by Greg Wall, who also leads the lush horn section's driving rhythm.
St. Jude Children's Research Hospital, founded in 1962, is a leading pediatric treatment and research facility focused on children's catastrophic diseases.
The cover art for "Now Let Me Fly" is by the Israeli fine artist Mira Sasson, who has painted dozens of portraits of Pioneers For A Cure contributors.
Pioneers For A Cure - Songs To Fight Cancer is the largest showcase of cancer charities on the web. Called '[A] stellar model of artist-driven grassroots philanthropy' by National Geographic, the non-profit project records public domain songs, reinterpreted and made available for donations of as little as $1.99. This treasure trove of over 100 songs has been recorded by dozens of artists from around the world including Suzanne Vega, Ben E. King, Tom Chapin, Tom Verlaine, Matt White and David Broza. Fine artist Mira Sasson has painted the Pioneer Portraits of the singers, which are made available as US Postage Stamps to fight cancer. Proceeds from song downloads are donated to artist-selected cancer charities such as the American Cancer Society, St. Jude Children's Hospital, the Breast Cancer Research Foundation, and Susan G. Koman for the Cure.
In 2012 Pioneers For A Cure - Songs To Fight Cancer continues to support cancer research, cancer treatment and cancer care with digital downloads of important artists singing public domain material. We are proud to be a sponsor of Regina Spektor's Feb. 23rd HIAS benefit concert at Lincoln Center. Please join us there in support of the organization which helped bring Regina's Family to the U.S.
Jazz Songs To Fight Cancer and Guitar Songs To Fight Cancer are also planned for release later this year.
Please contact Pioneers For A Cure for more information, reviews and other press requests.
###