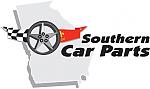 Blendmount and Escort detectors compliment each other so well, we had to take them and put together a single bundle.
Marietta, GA (PRWEB) February 20, 2012
SouthernCarParts.com (SCP) has been in the Corvette parts and accessories business for seven years, and during that time has gained a sterling reputation based on pricing and customer service. This reputation has helped SCP to acquire master distributor agreements with many of the industry's leading companies, and amongst those companies are the brilliant Escort Radar Detectors and BlendMount. SCP has seen positive response for both of these company's product lines, and as result felt compelled to put together a package offering the best of both companies products.
Escort Radar Detectors have been in business for over 30 years now. During that time they've developed advanced methods of radar detection and manufactured the industry's finest radar, laser, and LIDAR detectors. Today, Escort's very name alone is synonymous with radar detection hardware. Escort manufactures a current large line-up of available radar detectors to meet every potential consumer need, and this line-up is highlighted by two of Escorts most well-reviewed detectors: The Passport 9500ix and the Redline.
The Passport 9500ix is a jack-of-all-trades radar detecting device that is efficient for protection from all primary bands. The 9500IX radar detector also features a unique GPS function that helps it to memorize false alarms—such as those given off by supermarket doors and other electronic devices—so that the 9500ix will no longer alert for those in the future. The 9500ix's GPS function is also up-datable through the Escort website. By plugging the 9500ix in to a computer via a USB cable and accessing the Escort website the Detector will be able to update the Escort Radar detector's GPS functionality and ensure it always at peak performance and up to date.
The Redline radar detector may be even more impressive than the 9500ix. The Redline lacks the GPS functionality of the 9500ix but makes up for that with the premiere dual antennae functionality that allows for an extremely accurate and long range radar detection. The Redline is undetectable to speed radar guns as well, the Redline will be able to "see" a radar long before its visible to the eye, and then Law enforcement will never know that your Redline is there. The construction of the Redline is also impressive, as the entire unit is wrapped in a magnesium casing for increased durability, and features a red LED screen readout.
Whether the Redline or the 9500ix, both are an excellent choice especially not when you pair your new Escort detector with a BlendMount radar detector mount. Manufactured by BlendMount from high quality black anodized aluminum—a material that's extremely strong for its incredibly light weight construction, and which features a black anodizing for a gorgeous finish that's certain to be as durable as the rest of the product itself—the BlendMount radar detector mount utilizes the rear view mirror stem for an extremely low-profile install. Utilization of a BlendMount in a vehicle ensures that the Escort radar detector will be installed in such a spot as to make it easy to see yet still out of the way. It's truly the only way to hide your radar detector in plain sight.
SCP has created combination kits of these items for all primary vehicle markets, including but not limited to: Chevrolet Corvette (C5 and C6), Camaro, Dodge Challenger, Nissan GT-R, 350Z, and 370Z. Each of these kits will include the BlendMount mount for the respective vehicle and a choice of Escort radar detector, as well as a MirrorTap power cord to make the Escort installation even more low-profile. In combination with the BlendMount, the MirrorTap ensures that everything is needed so the Radar Detector is located centrally on the rear view mirror. The MirrorTap uses a braided cord and grounding wires to plug directly in to the rear view mirror's power source to power the Escort radar detector. This means that there are no more dangling power cables plugging in to the cigarette lighter ports.
# # #