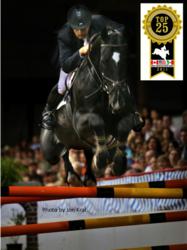 Pin Oak is more than a horse show, it is an event.
Houston, TX (PRWEB) February 21, 2012
Not just in Texas, or the Untied States, but all of North America, The Pin Oak Charity Horse show has once again been named one of the Top 25 Horse Shows in North America moving up to 9th, just behind The Devon Horse Show, The Hampton Classic, Spruce Meadows and the Pennsylvania National Horse Show by the North American Riders Group (NARG).
NARG acknowledges the effort required to produce a world-class equestrian competition. They value and recognize top management efforts to offer superb competition by putting sport first and developing these shows into world-class events.
"Obviously we are very proud of this recognition," said Lynn Walsh, President of The Pin Oak Charity Horse Show. "We credit the efforts of our show management team and the wonderful improvements made by Great Southwest Equestrian Center in addition to all the exceptional community and volunteer support that helps make this a very special event."
Plans are rolling ahead for the 67th Pin Oak Charity Horse Show starting on March 21-April 1 and it looks to be another banner year. "We have four Grand Prix's, two $10,000 USHJA National Hunter Derby's, a $25,000 USHJA National Hunter Derby and a wide variety of AA Hunter and Jumper divisions and classics. For more information and entry forms go to http://www.pinoak.org.
Pin Oak is more than one of the oldest and most prestigious horse shows in North America, it is a 67-year Texas tradition of helping and it has done many great things in its history not to mention it provided the seed money to build Texas Children's Hospital that has shaped the world-renowned Houston Medical Center.
"It's all about the smiles," says Roxanne Cook, Executive Director of Pin Oak Charity Horse Show when talking about the recent Charity Outreach Pin Oak volunteers have done in the community. Pin Oak Charity Horse Show has donated over $5million dollars in the Houston community since the show began in 1945. However, it is not all about the money, it is also about being engaged with their charities.
Serving up comfort is what Pin Oak Charity Horse Show did recently at Houston's Ronald McDonald House. A warm chili luncheon was provided to those needing that "home away from home" that Houston's RMH provides to families with children who travel to Houston's medical center for medical treatment.
Pin Oak then trotted over to Texas Children's Hospital West Campus deliver a heartfelt Valentine to the hospital and all they serve. A volunteer team lovingly decorated the hospital's main entrance to greet all who enter straight from the heart and they created a heart explosion in the Texas Children's Cancer Center at West Campus. "Making it fun for the kids and taking their mind away from the need for medical care is worth every minute of our time," according to Roxanne Cook, Executive Director of Pin Oak Charity Horse Show. "We like to say we say that Pin Oak is more than a horse show, it is an event. Well, Pin Oak is more than a donor, we are a partner with our charities."
Pin Oak Charity Horse Show donated $125,000 to its charities in 2011, which include Texas Children's Hospital, Houston's Ronald McDonald Family Rooms, and its newest charity of Candlelighters Childhood Cancer Family Alliance. This is how Pin Oak Steps Up & Steps Out for Children and you can step up and step out with them for the upcoming show March 21-April 1, 2012 at the Great South West Equestrian Center in Katy, TX. Show events are free except the evening events on March 24 and March 31. Entrance is $10 for those over 12, under 12 it is still free.
Pin Oak Charity Horse Show is a 501c3 not-for-profit entity that has served the greater Houston community since 1945. It is one of Houston's oldest local charities and also known as Houston's hometown horse show. Pin Oak was designated as the first United States Equestrian Federation Heritage Competition in the country in 2009. Pin Oak Charity Horse Show information available at http://www.pinoak.org, on our Facebook page, by email at info(at)pinoak(dot)org, or by phone 713.621.6290.
# # #