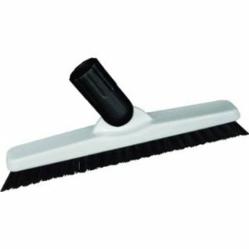 Swivel joints added to a grout brush make it far superior for cleaning between tile.
Austin, Texas (PRWEB) February 21, 2012
Swivel joints added to a grout brush make it far superior for cleaning between tile, according to a new report from Planet Amazing. The new Commercial Tile And Grout Cleaning Brush from Planet Amazing has a swivel joint that allows it to clean the small areas between tiles where dirt builds up.
According to consumer reviews of the product at Amazon.com, the grout brush is popular and has been rated five stars. The grout brush is used to clean grout (the substance between tiles that holds tile together and keeps it firmly in place on the floor). According to Justin Douglas of Planet Amazing, "We put some time into studying this process of cleaning tile and grout which is needed by nearly every home in the world. Most people don't think about it, but tile is in almost every home, so this process we call grout clearning is actually very common. So we studied the best type of brush to use, it has a special swivel that cleans the corners of the grout and molds perfectly to the creases between tile, it is a specially designed brush. It can also be used on the kitchen and bathroom grout, pool deck area, garage, driveway, etc. It has stiff bristles that last and last and a tough and sturdy swivel joint."
According to Wikipedia, "Grout is a construction material used to embed rebars in masonry walls, connect sections of pre-cast concrete, fill voids, and seal joints (like those between tiles). Grout is generally composed of a mixture of water, cement, sand, often color tint, and sometimes fine gravel (if it is being used to fill the cores of cement blocks). It is applied as a thick emulsion and hardens over time, much like its close relative mortar. Main varieties include: tiling grout (either urethane, cement-based or epoxy), flooring grout, resin grout, non-shrink grout, structural grout and thixotropic grout. Structural grout is used in reinforced masonry to fill voids in masonry housing reinforcing steel, securing the steel in place and bonding it to the masonry. Non-shrink grout is used beneath metal bearing plates to ensure a consistent bearing surface between the plate and its substrate. Tiling grout is used to fill the spaces between tiles or mosaics, and is often used to secure tile to its base. Although ungrouted mosaics do exist, most have grout between the tesserae."
For more information, visit the Amazon.com sales page for the Planet Amazing Grout Brush, officially called the "New Commercial Tile And Grout Cleaning Brush".
About Planet Amazing
PlanetAmazing.com is the premier manufacturer and distributor of a wide range of organic and inorganic "GRAS" solutions that anyone…no matter their experience…can use to eliminate real everyday problems.
###