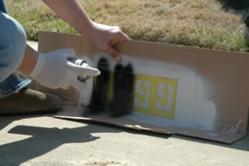 The market is wide open. Every homeowner is a potential client.
Austin, TX (PRWEB) February 26, 2012
Everyone has experienced the pizza guy or a delivery truck not being able to find your house, and now a new business startup course from Shoestring Publishing teaches how to solve this need and make a lot of money at the same time. According to Justin Douglas of Shoestring Publishing, the course teaches how to start a curb painting startup business.
"Curb painting is a real business that almost anyone can start, which has some great benefits," Mr. Douglas says. "If you don't know what curbing is, and a lot of people don't, it's when you paint the numeric portion of an address on the curb in front of the property. Sounds pretty easy right? Well that's because it is. Not only is it easy but it's easy to sell because it's extremely beneficial. Having address numbers painted on the curb offers several benefits to any homeowner or business owner and can be seen by any visitors, friends, family, delivery trucks like FedEx or UPS, pizza delivery, police, fire, ambulance and more."
Mr. Douglas identifies six benefits to the curb painting startup business:
1. The market is wide open. Every home owner in your area is a potential client.
2. Low start up costs. Anyone can open a curb painting business for less than $20.00
3. Anyone can do it! It takes no special skills, learn all there is to know in less than 30 minutes.
4. It's the easiest thing in the world to sell. Every home owner wants it and chances are the only reason they don't have it is that no one has offered yet.
5. Work whenever.
6. Full time or part time, this is the easiest money.
The course teaches how to start this business, and also has a startup boot camp that covers business topics like accounting, marketing and legal issues, all focused on the person starting this business. For more information, visit the Curb Painting Startup Course website.
About Shoestring Publishing
Shoestring Publishing is the premier online publisher of "extra income opportunities" that anyone can use to earn additional income. Unlike 99% of the so-called "opportunities" that promise to make millions overnight, the Shoestring Publishing mission is to show legitimate methods to earn a little extra income in a short period of time. Shoestring Publishing brings the very best in business startup courses to the public. They don't promise to make their students millionaires, but they do promise to show REAL strategies for earning extra cash that don't involve any special skills or a massive learning curve. All students need is an internet connection, an open mind and a willingness to learn.
###