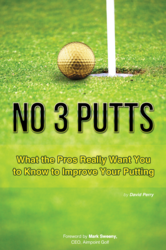 Fort Collins, Colorado (PRWEB) February 29, 2012
In in his new book, No 3 Putts, David Perry interviewed top rated instructors and club fitters to see what it takes to eliminate 3 putts. One of the key areas that is highlighted is the grip. An improper grip can lead to loss of feel, too much tension and missed putts.
"The only blood you are going to get out of that club is your own" - Sam Emerson
According to Sam, gripping the club too tight will cause loss of feeling, freezing up the body and too much tension. You need to have a loose grip on the club to allow proper feeling of the club, the weight and the swing. Sam asked Sam Snead how tight do you hold the club and he replied, "How tight are you going to hold a baby bird?"
"The grip size is important because a lot of people need to calm down their wrists in the putting stroke." - Carol Preisinger
Another effect on the putt is the grip size. Many new putters have larger grips, which must be matched to the golfers hands. The putter needs to feel natural to the golfer during the stroke. "The great putters are feel putters." - Sam Emerson.
This topic, along with many others, are presented in more detail the new book, No 3 Putts, by David Perry. No 3 Putts, contains key tips and techniques from top rated instructors and club fitters, dedicated to helping golfers eliminate 3 putts and improve the importance of putting in the golfers overall game.
Sam Emerson is a PGA Horton Smith Award Winning Instructor and Club Fitter
Carol Preisinger is a Top 100 Teacher in America
###