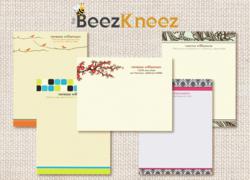 Sunnyvale, California (PRWEB) February 20, 2012
The BeezKneez Designs, in association with The Artisan Group, will be featured on February 24-25, 2012 at a luxury Gift Lounge hosted by GBK Productions at The W Hotel in Hollywood, California, in honor of the 84th Annual Academy Award Nominees and Presenters.
All attending celebrities and members of the press will receive a collection of The BeezKneez's designer stationery in their swag bags. The exclusive collection of stationery will also be prominently on display during the event.
ABOUT BEEZKNEEZ DESIGNS
Founded in 2008, The BeezKneez is a popular online paper goods shoppe specializing in trendy, completely customizable invitations, announcements, stationery, and personalized gifts.
Valerie S. Guerrero, the founder and chief designer for The BeezKneez, is a seasoned professional with a well-rounded background in graphic design and operations management. Having spent nearly four years as a lead designer for Cisco Systems in the Silicon Valley, California, Guerrero left her position in early 2010 to concentrate solely on her successful design shoppes.
Popular products include customized birth announcements, party invitations, graduation announcements, designer iPhone and iPad cases, personal stationery and other gifts.
The BeezKneez recently gifted Hollywood actresses Jessica Alba, Ginnifer Goodwin, Zooey Deschanel, and Hillary Duff with a collection of personalized stationery through The Artisan Group. In April, The BeezKneez will gift an exclusive collection of various personalized paper goods to A-list celebrity Tom Cruise and family.
In addition to her flagship online store, Guerrero also designs niche products such as wedding invitations, baby announcements, and children's party invitations for eight additional stores she also manages. Her designs are customized and sold to customers every day all over the world.

The BeezKneez Designs is not in any way associated with the Academy of Motion Picture Arts and Sciences.
# # #