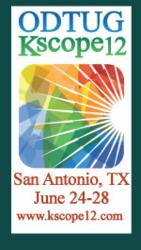 There is no other conference allowing Oracle Software Developers from around the world to collaborate with peers and learn about new Industry trends.
Troy, MI (PRWEB) February 21, 2012
Founded in 1990, ODTUG is an independent, not-for-profit global organization with over 20,000 members, which provides education, support, advocacy, and networking opportunities for all Oracle developers. ODTUG's annual conference, Kaleidoscope (KSCOPE), is considered the premier conference for developers in the Oracle community. The associated KSCOPE Gold sponsorship enables vendors to increase their exposure throughout the Oracle industry and speak directly with more than 1000 qualified Oracle developers, architects or database administrators at the conference. The conference agenda covers topics from legacy Oracle Forms to Fusion Middleware Development technologies like Oracle's Java Application Development Framework (ADF), Application Express (APEX), Business Intelligence, Oracle EPM; including Hyperion products, Essbase and Database Development.
Martin Disterheft, President PITSS Americas says, "There is no other conference allowing Oracle software developers from around the world to collaborate with peers and learn about new Industry trends. With this conference ODTUG also created an excellent platform for vendors to communicate with software developers on a variety of topics. This is why PITSS will continue to be committed to its support for the ODTUG in 2012. PITSS encourages Oracle Developers to sign up for the Oracle Developer Event of the Year using the code "PITSS" for a discount on Registration."
About PITSS AMERICA:
PITSS is a global leader in Oracle Modernization specializing in Oracle Fusion Middleware Developer Tools (Forms, Reports, JDeveloper / ADF, Application Express) and WebLogic Server. PITSS enables organizations to increase business value and decrease overall costs by leveraging their existing investment made in Oracle technologies. PITSS offers customers it's innovative PITSS.CON software, services and area expertise to automate upgrades and migrations of legacy Oracle Forms and Reports applications to 11g, ADF / Java and APEX.
With more than 400 customers across all industry sectors and geographies, PITSS has gained an excellent worldwide reputation and is considered an expert in modernizing and/or developing an Oracle Forms or ADF based application.
PITSS was founded in 1999 and is based in Troy, Michigan. They are an Oracle Gold Partner and a member of the Oracle Modernization Alliance. For more information please visit us at http://pitss.com/
###