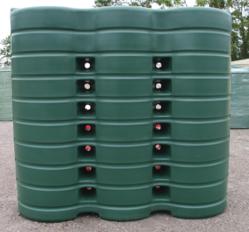 Locally made poly tanks designed for strength, space and cost efficiency with great visual appeal. Supaslim to fit any location.
Brisbane, Qld (PRWEB) February 21, 2012
Clark Tanks, a trusted Australian manufacturer of high-quality polyethylene water tanks, present a new slimline water tank design - the 3,000L EVO Supaslim.
The locally made poly tanks are designed for strength, space and cost efficiency with great visual appeal. Super slim to fit any location.
At only 700mm wide the slimline water tank is one of the narrowest 3,000L tanks on the market and has been designed to fit in many of the limited spaces that are part of modern home design.
The tank features a unique patented construction method using nine aluminum tubes to ensure maximum strength and minimal distortion of the tank walls when the tank is filled with water.
The overall dimensions of the 3,000L EVO Supaslim have been developed in conjunction with builders to ensure minimal impact on the location of windows or doors in the home.
The tank measures 2.68m long and only 1.95m in height yet holds over 3,000L (660 galloons) of water.
As with all Clark Tanks water tanks, the polyethylene used in the manufacture of the tank is certified as food grade and complies with all aspects of the Australian Standard AS4766 (the poly water tank manufacturing standard).
"Homeowners purchasing the 3,000L EVO Supaslim can have confidence in the tank," says Mark Pearson, General Manager of Clark Tanks NSW. "With patented design, food grade raw materials and the backing of a 10 year warranty this tank makes a compelling argument."
The new slimline tanks are available in a full range of colourbond colours to match the outside decor of any home. The 3,000L EVO Supaslim will be available in from Clark Tanks Queensland and NSW branches from March 2012, with a 5,000L model to be released later this year.
For more information, contact a Clark Tanks distributor or check out the Clark Tanks website: http://www.clarktanks.com.au/
About Clark Tanks
Clark Tanks are a leading Australian manufacturer of quality polymer rainwater tanks and farm products. Manufacturing since 1997, Clark Tanks is committed to providing quality products designed to meet the needs of rural and residential Australia.
Water tanks are available in capacity from 1,000 litres (225 gallons) to 46,800 litres (10,000 gallons) and include round, slimline and underground water tanks. Clark Tanks also produce industrial tanks for commercial and chemical storage and stock a range of tank pumps and accessories.
###