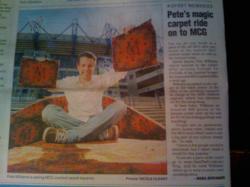 Melbourne, Australia (PRWEB) February 27, 2012
Due to popular demand, emails and phone calls, Pete and Dom take this episode of their marketing podcast for Pete to share about his first big business success story.
PreneurCast Episode 38 focuses on how Pete sold the MCG which stands for Melbourne Cricket Ground, also known as Australia's version of Yankee Stadium. Inquiring minds want to know what the entrepreneurial takeaways or lessons learned from that experience are.
Host Pete shared the key lesson out of the first situation: look for the opportunity and take action. There are times when individuals could be reading a book or in the presence of a colleague or just for personal growth, and obtain an idea that could generate income.
For those entrepreneurs who are ready to get started and have a support team, hosts Pete and Dom recommend swiping and deploying Pete's process or anyone else's by steeping through their sale funnels.
To listen to the complete podcast - http://www.preneurmedia.tv/PreneurCast/PreneurCast038-how-pete-sold-the-mcg/
Listeners can subscribe to the podcast in Itunes or PreneurMedia.tv. PreneurCast airs every week.
About PreneurCast Hosts
Pete Williams
Pete is an entrepreneur, internet marketer, speaker and author. At 21, he sold Australia's version of the Yankee Stadium, the Melbourne Cricket Ground, for under $500. He went on to write a number of books (How to Turn Your Million-Dollar Idea Into a Reality, Media Strategies for Internet Marketers, The Ultimate Press Release Swipe File and It's Not About the Product) and create a bunch of companies (Infiniti Telecommunications, On Hold Advertising, Simply Headsets and Preneur Group to name a few). He's also an avid outdoor adventurer. He completed this year's Ironman Western Australia in under 12 hours.
About Dom Goucher
Dom currently lives in a small holiday town on the east coast of Spain with his partner, Keavy, and their three kittens: Meg, Mog and Blue. He's self-employed and has been a Technical Solutions Consultant for Xerox. He has a background in print production and online media production, and has been a photographer and technical trainer for creative software such as Photoshop, Illustrator, InDesign, Dreamweaver, Flash and FinalCut. Somewhere in a box, he has a degree in Computer Science too. He specializes in ScreenFlow and screencasting, and also does transcription, ebook creation, training course design and implementation.
###