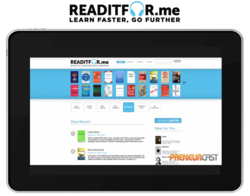 Melbourne, Australia (PRWEB) February 23, 2012
PreneurCast's hosts Pete and Dom continuously provide strategies and solutions for entrepreneurs to assist them in making their businesses run smoother. During Episode 39 of their marketing podcast, they bring in the creator of a phenomenal service that is new and highly sought after.
PreneurCast Episode 39 finds Pete and Dom interviewing Steve Cunningham, creator of Read It For Me. From the outset of the interview, Cunningham lays the foundation and reveals the who, what, where and why Read It For Me came into existence. He discusses how he reads books, creates the notes and summaries that result in becoming a really cool engagement on Read It For Me.
Cunningham shares with the listeners how he'd walk into business offices and ask the CEO and high-level executives about the books on their desk which resulted in the blank stare. The business owners had these stacks of books on desks they had not read! Life would get in the way and didn't have the time to sit down for three or six hours to consume the book.
Read It For Me is a service that reads the world's bestselling business books every week and creates extraordinary learning tools to help business owners understand and actually put the big ideas to work in their business and life. Creator Cunningham details for the listeners his background in the digital marketing agency, how social media was changing the scene and how social media could be used to transform businesses.
During Cunningham's interview over the next 35 to 40 minutes, he shares with Pete and Dom about workflow, lessons learned and even how to develop a business model. The takeaway for entrepreneurs listening to this episode is, "Before reading any book, decide what you want to get out of it, and get an overview of the book before you start reading properly".
For those entrepreneurs that have business books piled upon their desk, Read It For Me offers a "unique" way to gain the information you've been seeking and a way to apply that information.
To listen to the complete podcast - http://www.preneurmedia.tv/PreneurCast/PreneurCast039-how-to-read-a-book/
Listeners can subscribe to the podcast in Itunes or PreneurMedia.tv. PreneurCast airs every week.
About PreneurCast Hosts
Pete Williams
Pete is an entrepreneur, internet marketer, speaker and author. At 21, he sold Australia's version of the Yankee Stadium, the Melbourne Cricket Ground, for under $500. He went on to write a number of books (How to Turn Your Million-Dollar Idea Into a Reality, Media Strategies for Internet Marketers, The Ultimate Press Release Swipe File and It's Not About the Product) and create a bunch of companies (Infiniti Telecommunications, On Hold Advertising, Simply Headsets and Preneur Group to name a few). He's also an avid outdoor adventurer. He completed this year's Ironman Western Australia in under 12 hours.
About Dom Goucher
Dom currently lives in a small holiday town on the east coast of Spain with his partner, Keavy, and their three kittens: Meg, Mog and Blue. He's self-employed and has been a Technical Solutions Consultant for Xerox. He has a background in print production and online media production, and has been a photographer and technical trainer for creative software such as Photoshop, Illustrator, InDesign, Dreamweaver, Flash and FinalCut. Somewhere in a box, he has a degree in Computer Science too. He specializes in ScreenFlow and screencasting, and also does transcription, ebook creation, training course design and implementation.
###