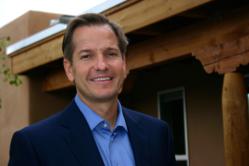 Santa Fe, NM (PRWEB) February 21, 2012
The next great American visionary and President could very well be Independent Tim Wiford, a small business owner from Santa Fe, NM who has created honest, practical solutions for our Nation such as "A Smart Economy" and "One Standard of Justice."
Wiford announced his candidacy for the White House to a small circle of friends on President's Day and will be campaigning to get on the ballot in all 50 states as an Independent candidate.
In recent polls 80% of Americans said they would be willing to vote for an Independent with real solutions.
With the country facing record deficits, an ever-increasing national debt, a diminishing ability to solve our problems and keep our commitments, people are looking for smart solutions.
The candidate claims that A Smart Economy uses the power of innovation to bring new value into the economy – so much value that every American can have health and wellness care, education and vacations every year from this time forward.
In the current economic structure these outcomes would be too good to be true but in A Smart Economy, new possibilities exist. Or we can keep doing what we are doing now.
In the bigger picture A Smart Economy creates jobs, strengthens the Dollar, empowers us to pay off our national debt and restore Social Security to its original promise. It does all of this without raising taxes.
THE Smart Economy accomplishes this by first balancing the money system.
Wiford is not a politician or a corporate executive. He is a middle class American who goes to work everyday. For nearly 20 years he has worked on innovations that bring economic value into the life of every American by integrating higher values like truth, freedom and love into our social systems, such as the economic system and the justice system.
Now 46, he was initiated into the culture of Washington DC at the age of 19 when he interned for Bill Colby, former head of the CIA. His first job in Washington was as a fundraiser and lobbyist raising money for medical aid for the Afghan rebels.
He then worked in finance for a number of years and participated in a number of projects in and out of Washington DC until the year 2000 when he moved to Santa Fe where he started the Wiford Gallery in 2002.
Who will serve our nation best? What if an honest hard-working guy can own the problems of our Nation and solve the problems of our time? Do we elect a common man with extraordinary ideas or do we elect another politician?
http://www.wifordforamerica.org
###