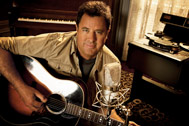 Cincinnati, OH (PRWEB) February 20, 2012
Country music legend Vince Gill will make his return to Cincinnati at the Taft Theatre this April. During his storied career in country music, Vince Gill has consistently set the bar higher and higher for himself. The singer, songwriter, producer and multi-instrumentalist has recorded more than 17 studio albums, sold more than 26 million copies and won 20 Grammys and 18 CMA Awards. The two-time CMA Entertainer of the Year is the only man to ever win five consecutive CMA Male Vocalist of the Year awards and the only songwriter to win Song of the Year four times.
Reserved tickets, $67.50, 54.50, 44.50, & $34.50 (plus applicable fees), go on sale Friday February 24 at 10 AM at http://www.ticketmaster.com, http://www.tafttheatre.org, the Taft Theatre Box Office and all Ticketmaster outlets including select Kroger stores. Charge by phone at 1.800.745.3000.
Those winning songs -- "When I Call Your Name," "Look At Us," "I Still Believe In You" and "Go Rest High On That Mountain" -- were among the stellar compositions that led to Gill's 2005 induction into the Nashville Songwriters Hall of Fame. Two years later, he became one of the youngest performers ever inducted into the Country Music Hall of Fame.
Then he achieved the seemingly impossible – he raised the bar again. In 2006, Gill released the ambitious and unprecedented four-CD, 43-song album called "These Days," which garnered an overall Grammy Album of the Year nomination and won the 2006 Grammy for Best Country Album. USA Today ranked him the No. 1 "Most Prolific Artist," and numerous media outlets proclaimed the platinum-selling project the year's best.
With that tremendous level of success, how on earth would Gill be able to follow up such a landmark project? Quite well, as it turns out. Guitar Slinger is the perfect next step in Gill's singing and songwriting sojourn. The strength of the new project comes from making a 180-degree turn from his earlier winning blueprint. Whereas the previous project was big and bold, Guitar Slinger is personal and poignant. Yet it remains equally potent. It's a collection of songs about love, reflection, redemption and spirituality, including three of the most powerful songs of his career – "Threaten Me With Heaven," "Bread And Water" and "If I Die." During the best time of his life, he's making the best music he's ever made, and it remains quintessentially Vince Gill.
It's not surprising that the music is extremely personal because Gill wrote and recorded it when he was experiencing extreme highs and lows. In May 2010, Nashville was hit with a flood that claimed 10 lives and caused billions of dollars of damage. Gill lost an extensive amount of musical equipment. A few days after the flood waters began subsiding, he walked his daughter Jenny down the aisle.
Another reason this project is special to Gill is because he recorded from start to finish at the studio he recently built in his and Grant's Nashville home. But the recording wasn't contained within his studio walls. To use the piano and B-3 Organ housed in his living room, he ran cables through the walls and he wired a bathroom for microphones and amps. "It's been quite a gift to this house, to put music in it and have it be filled with musicians floating around and making coffee," he says. "Amy is gracious about welcoming all things into the house. Having that here has given me a unique sense of home. Music lives and breathes in my home."
That sense of home was strengthened when Amy joined him for the duet "True Love," which also features their 18-year-old daughter, Sarah Chapman. Daughter Jenny, an aspiring singer/songwriter, and the couple's 10-year-old daughter Corrina sang on the album as well. Corrina harmonizes on "Billy Paul," a true story of Gill's friend who took someone else's life and then took his own. "I thought, 'This could either be the worst idea I've ever had in my life or it could be hauntingly great,'" he says of the collaboration. "It's kind of unexpected that it's dark and there's this little kid's voice singing, 'What made you go crazy, Billy Paul?'"
After decades of collaborating with artists from virtually all genres -- from Alice Cooper, Bonnie Raitt and Eric Clapton to Gladys Knight, Diana Krall, Emmylou Harris and Sheryl Crow -- he calls it "unbelievable" to record with his children. "I spent all that time trying to be that brother, trying to be that seamless harmony with somebody, whether it was Rodney Crowell or Emmylou or Patty Loveless, whoever it was that I recorded with," he says. "I wanted them to feel like I was their little brother or older brother, like it was family. I always felt like family harmony, like the Everly Brothers and Louvin Brothers, people like that who had the same blood line, was somewhat seamless in a really beautiful way.
"Now in the last few records I've gotten to hear that with Jenny singing, and then Corrina, just hearing her little voice show up has been pretty great. I love seeing them get interested in it. I didn't know whether my kids would be interested in music. It's a great feeling. Amy's dream is that we are the Partridge Family and we all go out on one bus as a family band. I don't know that I'm quite ready for that! But it's wonderful that they're all interested."
The first song he wrote after completing "These Days" was the vivid "The Old Lucky Diamond Hotel," a fond and colorful remembrance of days and places gone by along the iconic Route 66. "What struck me as good news about this song is that it was unlike anything on that record, and it had 43 songs," he says. "I'm going, 'Great, what are you going to write about now, smart guy?' This song came flying out and it was nothing like anything that was on that previous record. I felt really good about that."
However, Gill didn't feel any pressure to follow up "These Days," nor did he have a goal or concept in mind when he began writing. Gill describes himself as an "in-the-moment personality." Thus, the album was a result of whatever creativity flowed naturally out of him. "I have been lucky in that a lot of my work has been well-received critically in all kinds of places," he says. "So I don't feel the pressure that I'm not going to live up to that record. This record is the same guy; it shouldn't change dramatically and it hasn't.
"I have come to the realization that the results aren't dictated whether they are number-one records and you sell 20 million copies. None of the notes change because of it. I don't think I will ever let the results of something I like or don't like be dictated to me by how well it does commercially.
"I'm doing the best work I've ever done, and that makes me happy."
For at complete list of Taft Theatre shows visit: http://www.tafttheatre.org
Contacts:
For Taft Theatre: Rick McCarty | Rmccarty(at)memi(dot)biz | 513.977.1087
For Vince Gill: Erin Morris | Erin(at)morrispr(dot)biz | 615.419.9988
# # #