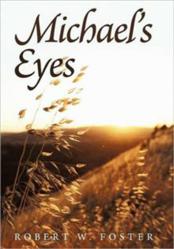 Hopkinton, Mass. (PRWEB) February 21, 2012
The best stories leave readers wanting more. This is as true of the Bible as any work of fiction, and in his new novel "Michael's Eyes" (published by CrossBooks), author Robert W. Foster revisits the biblical story of Jesus giving sight to a blind man and asks "what, then, happened to the blind man?"
"I have often wondered about the lives of those people Jesus ministered to who appear once in the Gospels and are never heard of again," Foster writes. "How were their lives changed? How did they understand what had just happened to them?"
Michael, blind from birth, is given his sight by a stranger he believes to be a rabbi (Jesus) and is excommunicated by the synagogue leaders. While still blind Michael was matched by his parents with Leah, a homely, crippled young woman. They find love and proceed with the wedding even after Michael receives his sight.
Confused about the execution of the mysterious rabbi, Michael goes on a search for answers, hoping to learn from the experiences of others healed by Jesus. The results of the search are ambiguous, but Michael and Leah come to their own understanding of the meaning of the rabbi's life and find their own faith in the process.
Foster encourages readers to ponder the issues raised "Michael's Eyes." His desire to write grew out of his own curiosity, and that same curiosity is one he hopes others will explore. "The relationship between experience and belief is always relevant; the question why some believe and others do not is timeless."
About the Author
Robert W. Foster is a retired civil engineer. He graduated from the University of Vermont in 1955 and served in the U.S. Air Force. He practiced as an engineer in the Framingham, Massachusetts, area until 1992. Now in retirement, he writes for technical publications and local newspapers. He lives in Hopkinton, Massachusetts.
CrossBooks, a division of LifeWay Christian Resources of the Southern Baptist Convention, is a Christian publishing imprint committed to bringing more Christian voices into the publishing industry. Established authors, first-time authors, and authors anywhere in between can meet their goals and fulfill their vision for their books by publishing with CrossBooks. CrossBooks' innovative style of publishing blends the best of traditional and self-publishing. While our authors contribute monetarily to cover the cost of publishing, we maintain a strict moral and quality standard that every manuscript must meet for us to publish. For more information on publishing your Christian book with CrossBooks, log on to crossbooks.com or call 1-866-879-0502.
###