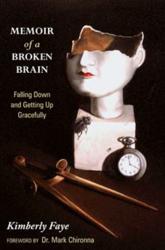 Colorado Springs, Colo. (PRWEB) February 21, 2012
After being released from Craig Hospital, world renowned for spinal cord and brain injury rehabilitation, author Kimberly Faye began writing. "This book began as therapy and developed into something so much greater," she says. In her new "Memoir of a Broken Brain: Falling Down and Getting Up Gracefully" (published by WestBow Press) she recounts her tale. Incapable of speech when she began, Faye's story is a model of triumph of adversity.
"Memoir of a Broken Brain" is Faye's story of surviving three accidents – in two months – that caused a life-altering traumatic brain injury. Readers will journey with her through the impasse of a broken brain, and experience her courage and determination to embrace her new identity and overcome obstacles from her past.
The book inspires readers to look for the miraculous in uncertain times:
Kimberly's quest for survival sent her in search of the missing pieces of her past. She learned that survival is a multifaceted anvil that shapes our decisions and forges our future. Merely existing then becomes a double-edged sword: you may have managed to keep breathing, but are you really living? The only way for survival to triumph is to acknowledge the role of fear in the face of crisis: affirmed fear liberates; coddled fear incapacitates. Denial keeps us stuck!
"Life is an obstacle course," Faye reminds readers, "that provides an opportunity to face challenges and achieve goals. There are times when it seems the odds are stacked against you. When you are faced with loss, be it physical and/or emotional health, financial security, divorce, or death, how will you face the obstacles in your life?"
About the Author
Kimberly Faye is an acclaimed orator and author. She has been featured on television and radio, and in magazines and newspapers. Faye is an expert at overcoming tragedy and casting vision for new beginnings. She resides in Colorado Springs, where she enjoys hiking and outdoor activities. She has two children and three grandchildren. A minister's daughter, she has served in church planting and grassroots ministries. Her experience and training inspired her to create Find Your Shine, a service designed to assist others in finding their own uniqueness.
WestBow Press is a strategic self-publishing alliance of Thomas Nelson, Inc., the world's largest Christian publisher, and Author Solutions, Inc. (ASI) — the world leader in the popular self-publishing industry segment. Through this partnership, authors benefit from the rich publishing heritage of Thomas Nelson and the speed-to-market advantages of the ASI self-publishing model. Titles published through WestBow Press are evaluated for sales potential and considered for publication under the Thomas Nelson imprint. Thomas Nelson, Inc. continues to "inspire the world" with distribution of products in more than 100 countries worldwide. For more information, or to start publishing today, visit http://www.westbowpress.com or call (866)-928-1240. Follow us @westbowpress on Twitter for the latest news.
###