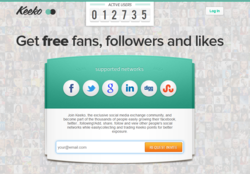 For new guests, we welcome you to try out Keeko! -JP Bisson
(PRWEB) February 22, 2012
Clicking Labs the leading provider of Web 2.0 business applications launched its free social media sharing tool called Koaky in late 2011. Today, the company would like to reassure its currently registered users who are already part of Koaky that there is no need to be alarmed with the current rebranding strategy. "Keeko is finally up and running and has successfully maintained the same status as Koaky or even better. For our registered users, we welcome you to use Keeko with the same ease as the previously named Koaky platform", says Business Development – Managing Director, Jonathan Kennedy.
Keeko is the latest service online to easily grow your social networks. With Keeko, one can get more free fans, followers and likes within this exclusive social media sharing community. For startup companies, aspiring bloggers, and other socially active individuals, Keeko is an opportunity not to miss out on. From the world's leading provider of web properties, Keeko is the solution to gaining online exposure, social proof and credibility in the eyes of peers. The process is simple and easy to use. Simply request for an invite and wait for the confirmation email. It works on a point system in order to regulate the credits necessary to earn fans, followers and likes.
"Our choice to launch Keeko was a quick and necessary change for it to grow quicker and gain more users. At the moment, we are happy to see it growing quite strongly, which is why we decided to include it on our home page on how many active users we have at the moment" adds JP Bisson, Managing Director. Keeko supports the following social networks such Facebook, Facebook Share, Twitter, Retweet, Digg, Google Plus, Stumble Upon, and LinkedIn. The team is currently in the works of adding Tumblr to their list of services.
To learn more about Keeko, watch out for their upcoming website at http://www.keeko.com.
About
Keeko is a wholly owned company by Clicking Labs. With dedication and perseverance they were able to bring together a diverse team of web professionals to provide internet businesses with creative web marketing strategies. Founded in Ottawa, Canada, the company has expanded operations to Cebu, Philippines in early 2011 to better serve its clients.
###