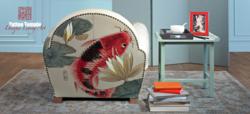 "Just as a tattoo adds unique life to skin - the objects we live with have the capacity for beauty. We can choose to bring art into everything we do" Joey Pang
(PRWEB) February 22, 2012
To celebrate the Year of the Dragon, Indigo Living teamed up with internationally acclaimed tattoo artist Joey Pang of Tattoo Temple to create exclusive artworks as the keynotes of the collection. Joey Pang is the only professional Chinese calligraphy tattoo artist, the pioneer of a variety of techniques as well as the recognized leader in multiple styles. Having trained across the globe she is currently based in Hong Kong and has a two year waiting list for tattoo work. The unique Tattoo Temple range applies tattoo motifs throughout a series of home furnishings and accessories. First in the collection is a fiery dragon coiled and ready to strike. The second illustrates a tranquil water scene featuring koi fish swimming amongst delicately balanced lotus blossoms. According to Chinese culture the dragon symbolizes power and wisdom while koi express abundance. Borne from art on the human canvas and with strong traditional undertones these works offer a stunning modern interpretation of Chinese archetypes. The Tattoo Temple range encompasses armchairs, cushions, trays, coasters, and striking ceramic tableware exclusively designed for Indigo in conjunction with Tattoo Temple and famed craftsmen Piling Palang.
The diamonds in the Tattoo Temple collections' crown are two limited edition leather arm chairs that have been meticulously hand painted by Joey Pang herself. Taking over 300 hours to craft, each is a distinctive work of art valued at over $80,000.00
Deirdre Gleeson, Brand Director for Indigo Living added, "We are delighted with the finished results of this artistic collaboration. These fantastic designs have exceeded our expectations and we are excited to see customers' reactions to these long-awaited pieces. The strong imagery detailed in these pieces will provide customers with highly visual, cornerstones from which to build any desired look and feel around".
These uniquely crafted pieces of functional art will be featured at 'Indigo Atelier' in Prince's Building, Central Hong Kong. The full collection will then be on sale throughout Indigo's Hong Kong, China and Dubai showrooms later this month.
For more information about Tattoo Temple, please visit http://www.tattootemple.hk.
# # #