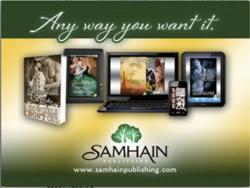 We are always looking for innovative ways to reach new readers, and advertising in New York's Times Square seemed like an excellent fit.
Cincinnati, OH (PRWEB) February 22, 2012
International publisher Samhain Publishing® today announced its first foray into Jumbotron advertising – and like everything the 6-year old publisher has undertaken since it burst upon the eBook publishing scene, they opted to do it in a big way: advertising a rotating 15-second spot on the CBS Jumbotron Display at One Times Square in downtown New York City.
The spot, designed by Samhain Publishing and produced by Neutron Media (New York) features several recent releases from the company's Romance and Horror fiction lines. "We are always looking for innovative ways to reach new readers, and this opportunity seemed like an excellent fit," explained Christina Brashear, president of Samhain Publishing. "Whether readers prefer eBooks or print books, romance or horror, they can get fiction any way they want it with Samhain."
The advertisement is scheduled to run Mid-February to Mid-April, and may be seen by nearly a half-million tourists and New York residents a day – the estimated daily foot traffic in Times Square.
About Samhain Publishing
Launched in 2005 with a vision of bringing extraordinary fiction to compulsive readers (who sometimes can't wait for a book to actually be printed), Samhain Publishing® is an international publisher of eBook and traditional print fiction. One of the most prominent voices of original ebook fiction, Samhain represents some of today's brightest authors of romance and horror fiction. To learn why at Samhain "it's all about the story…", visit Samhain Publishing online at http://www.samhainpublishing.com.
###