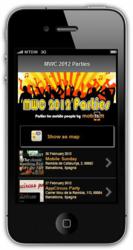 We are very proud of our technology and we wanted to give MWC visitors a chance to see how useful and effective it can be.
(PRWEB) February 21, 2012
Mob.is.it, the online mobile website builder that in less than 3 months reached over 700 registered users, just announced the launch of their mobile web app for this year's Mobile World Congress parties. The app is freely accessible with any smartphone at the URL http://mob.is.it/m/4
The Mobile World Congress, held in Barcelona from February 27 to March 1, is the world's largest exhibition for the mobile industry. In addition to the main fair and conferences many parties take place at different bars and venues in the city giving mobile experts, developers, investors and entrepreneurs a chance to meet, chat and network in a relaxed and less formal atmosphere.
To make things easier and really mobile, the guys at mob.is.it created a mobile optimized web app that allows everybody with a cellphone to browse the list of parties, localize them on the map, find directions and see details and information about every event in the city. The mobile web app can be used freely with any phone or mobile device by pointing its browser to the address http://mob.is.it/m/4
"We are very proud of our technology – says Silvio Porcellana, mob.is.it CEO and founder – and we wanted to give MWC visitors a chance to see how useful and effective it can be. So we «ate our own dogfood» and created the parties app using exclusively our own mobile website builder. I am very happy with the results, especially because now everybody that uses our mobile website creator will have access to the features and tools that allowed us to build the app"
About mob.is.it
mob.is.it is the online tool for creating mobile optimized websites that in less than 3 months reached over 700 registered users and 1,000 websites and web apps. The company offers its customers an online tool to quickly and easily create HTML5 websites that are fully optimized for all mobile phones and tablets, from the latest iPhone and Android smartphones to older and less powerful devices. Mob.is.it goal is to bring "the mobile web in everybody's pocket" and the vision is to do so by:
1. creating a tool that is extremely simple and effective (everybody can use it)
2. allowing users to build mobile websites that work across the widest range of phones (everybody can enjoy it)
3. offering all this at a very reasonable price (everybody can afford it)
###