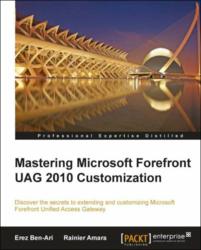 UK (PRWEB) February 20, 2012
Birmingham: Packt is pleased to announce the publication of Mastering Microsoft Forefront UAG 2010 Customization - a hands on guide which includes customization tips and code samples for extending UAG. Written by two UAG masters – Erez Ben-Ari and Rainier Amara, this book reveals high level tips and tricks of UAG extension, and is now available from Packt and other leading book and ebook retailers.
Mastering Microsoft Forefront UAG 2010 Customization shows readers how to take advantage of adjusting content on-the-fly to address application compatibility issues. UAG consultants can now create custom endpoint detection and policies based on their own scripts and move a step ahead by performing various text, language, theme and image customizations.
The Content of the book is divided into 10 Chapters.
Chapter 1: Customization Building Blocks
Chapter 2: Customizing UAG's Look and Feel
Chapter 3: Customizing Endpoint Detection and Policies
Chapter 4: The Application Wrapper and SRA
Chapter 5: Creating Custom Application Templates
Chapter 6: Custom Certificate Authentication
Chapter 7: Custom Authentication Repositories
Chapter 8: Extending the Login Process with Customization
Chapter 9: Customizing Endpoint Components
Chapter 10: Additional Customizations
Forefront Unified Access Gateway (UAG) is designed to provide secure remote access in a way that extends application intelligence, security and control, and ease of use. UAG delivers comprehensive, secure remote access to corporate resources for employees, partners, and vendors on both managed and unmanaged PCs and mobile devices.
Aimed at consultants, this book will enable individuals to configure UAG for custom authentication by designing log in and portal pages as per their requirements. They will also understand how to inject functionality into the login process by including certificate authentication.
Packt Publishing has also released one other related title:
Microsoft Forefront UAG 2010 Administrator's Handbook (Published January 2011)
Packt Enterprise is a leading publisher of Enterprise books for Oracle, Microsoft, IBM, SAP, Citrix and other technology companies. Packt Enterprise develops books for Architects, Developers, Administrators and End User alike.
###