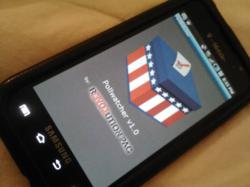 This tool enables the grassroots revolution to compete with the establishment media like never before.
Chicago, IL (PRWEB) February 20, 2012
In the face of mounting evidence of voter suppression and election fraud, Revolution PAC is formally launching a groundbreaking exit polling initiative in time for the February 28 Republican presidential primaries in Arizona and Michigan. The first-of-its-kind grassroots effort also will include the deployment of a private-label smartphone application.
The application - codenamed "PollWatcher 1.0" - is currently only available for Google's Android operating system and was built from the ground up with an easy-to-use interface. PollWatcher 1.0 will allow Revolution PAC's boots on the ground to conduct an efficient exit polling initiative as a means to crosscheck the accuracy of state GOP parties' vote totals, which were problematic in Iowa, Nevada and Maine.
"This tool enables the grassroots revolution to compete with the establishment media like never before," explains Gary Franchi, Revolution PAC chair. "Their monopoly stranglehold on election results is finally broken."
In addition, the app features access to a "reporter's toolbox," which provides one-click audio/video recording as well as the ability to post to Facebook or Twitter in real time. The application will be distributed to qualified volunteers for live field beta testing prior to the upcoming primaries.
Volunteers are being asked to join the effort at http://RevolutionPAC.com/Exit-Polling.
Revolution PAC will broadcast the results in real time as part of its "Boycott the Mainstream Media" initiative, which will be streamed live throughout the day during the Arizona and Michigan primaries.
Revolution PAC is supporting U.S. Rep. Ron Paul's bid for the Republican presidential nomination and his consistent, constitutional message with targeted TV advertising, direct mail campaigns, vote-watching initiatives and innovative Web promotions complemented by billboards and radio ads in key primary states. Unlimited donations by individuals, businesses and organizations are being accepted by Revolution PAC to support that effort.
# # #