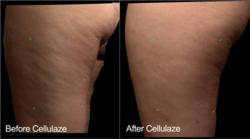 Family bonds through cellulite surgery.
Dallas, Texas (PRWEB) February 22, 2012
A mother, daughter and grandmother from Dallas have found a new way to bond, according to FemSmart.com.
"We all decided to get cosmetic surgery on our cellulite together on the same day," says 59-year-old Iris Dillon. "I've always been close with my daughter and granddaughter, but sharing surgery together was pretty special. As soon as we all heal, hopefully we'll share something else --- similar looking bottoms."
With the FDA approval of the Cellulaze laser several weeks ago, they believe their family curse of "derrière dimples" has just been lifted.
It all started when 23-year old Courtney Walters heard about a new cellulite procedure to permanently reduce cellulite.
"I'm still young, but I have cellulite and it bothers me," says Courtney. "I told my mom that I was going to be the first in line when they began offering it in Dallas. The next thing I knew, my mom and grandma were signing up too."
"I've never heard of three generations from the same family going in for surgery on the same day. This may be a first," says Dr. Charles Powell with FemSmart.com. " But with the results we're seeing, I'm sure they won't be the last."
So on Friday morning, the three all reported to the specialty clinics of Dr. Charles Powell, the first physician in the South to offer and perform this FDA approved procedure.
"I don't think my daughter was too surprised when I told her that I was going to have it done," says 41-year-old Jennifer Walters. "But we were both shocked when my mom told us she was going to do it too."
The FDA has been cautious and slow to approve new technologies especially when so many treatments for cellulite have given minimal and short-lived results in the past.
"We have been excitedly and anxiously waiting for this technology for some time. We have seen its approval in Europe and Canada only to see our patients travel there to get this amazing procedure," says Dr. Powell. "Travel no more because it's finally here."
Each minimally invasive surgery took about an hour and then they all headed home to heal. For this family, the generation gap is now just skin deep.
About Cellulaze
An estimated 85% of women over the age of 25 have some form of cellulite – areas of dimples and fat herniation of the skin just beneath the surface of the skin, around the hips, thighs, and buttocks, which produces an "orange-peel" or a "cottage cheese" appearance. In the United States alone, the treatment of cellulite is a multibillion-dollar industry, according to market estimates. To date much of this money has been wasted on procedures that usually do not work and if they do it is with minimal and short-lived results.
Cellulaze reduces cellulite – in just a single treatment vs. multiple treatments for lesser effective above the skin treatments – by restoring the normal structure of the skin and underlying connective tissue.
Successful results have been studied two years out and counting.
Many cosmetic surgeons are wondering if they've finally found the cure for cellulite.
Cellulaze diminishes the lumpy pockets of fat, releases the areas of skin depression typifying cellulite and increases the elasticity and thickness of the skin.
Video of the surgeries and interviews with the three women are available upon request.
# # #