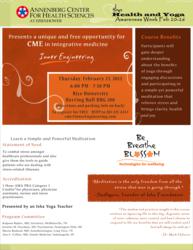 We feel yoga has so many preventive benefits that are not fully recognized or utilized by people from doctors to students to working professionals. This is an effort to bring the experience to the people so they know it for themselves
Houston, TX (PRWEB) February 20, 2012
The week of February 20-26 in Houston TX and across the country, Isha Foundation, a nonprofit volunteer-run organization dedicated to raising human consciousness, will conduct Health and Yoga Awareness Week to share the health benefits of yoga and meditation. As part of the initiative, the foundation will offer free sessions in which participants learn a simple and powerful meditation called Isha Kriya. Sessions are already scheduled at top hospitals and universities in Houston, and some of these sessions will provide Continuing Medical Education (CME) credits for attendance, useful for for physicians, physician assistants, nurses and nurse practitioners, and, in certain circumstances, licensed social workers and marriage and family therapists.
The Health and Yoga Awareness week was created to aid not only patients suffering physical conditions related to stress, but medical professionals themselves who also experience significantly elevated levels of stress and burnout. Health care practitioners attending Isha meditation programs have often remarked upon personal benefits they have received, as well as benefits to their actual practice of health care.
Ann Collins, a family physician in Indianapolis, explains how Isha meditation has affected her life and medical practice: "I care for a large group of people of all ages. I take care of patients from newborns all the way to nursing homes. It [the meditation] brings ease to me, there's much less effort. It's the same thing happening but my mind is where I am in that moment, and I'm not thinking about the next thing, or something that happened earlier in the day, so it's much more relaxing, and I think it's more beneficial to my patients because I can be just with them, with what's happening right then. I absolutely recommend it and it's made a big difference for me."
During the awareness week, foundation volunteers will also share the yoga and meditation benefits with groups of seniors, business professionals, and students. Other volunteers will offering healthy cooking classes, conduct a bone marrow drive, and release articles in local news about health and yoga. Sheela Rajdev, a yoga teacher with Isha Foundation, explains, "We feel yoga has so many preventive benefits that are not fully recognized or utilized by people from doctors to students to working professionals. This is an effort to bring the experience to the people so they know it for themselves, and realize how simple it is, especially simple because we are bringing it to them in their environment - their office, school, community center, senior center."
Participants in Isha programs report a variety of health benefits - from weight loss, decreased stress, relief from chronic ailments like asthma, diabetes, migraines, etc. In a 2010 survey, over 500 people practicing a 21-minute daily meditative practice taught by Isha reported on their physical, mental and emotional wellbeing, as well as their medication usage. The survey found that over 50% of respondents reported major physical health improvements ranging from lowered blood pressure to alleviated chronic headaches and insomnia. Also, over 70% of respondents reported significant improvements in overall mental health including increased clarity, concentration and productivity.
Sadhguru Vasudev, founder of Isha Foundation, explains that, "In yoga, when we say "health," we don't look at the body or the mind; we only look at the energy. If your energy body is in proper balance and in full flow, your physical body and mental body will be in perfect health. Now when we say keeping the energy body in full flow, this is not about doing a patch up job with some healing; this is about going to the foundation of your energy system and activating it in a proper way. It is about building a foundational practice which establishes your energy in such a way that naturally your body and mind are fine."
To learn more about Isha Foundation and Health and Yoga Awareness Week, visit http://www.BeBreatheBlossom.com/Health, or email houston(at)ishafoundation(dot)org.
###