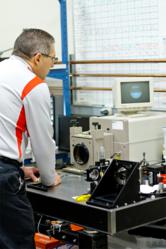 Rochester, NY (PRWEB) February 22, 2012
ASE Optics, an optical engineering services firm, launches an expedited Discovery Service this month to meet the needs of technology companies whose product development schedules are off-track. Like ASE's Discovery Service, the Expedited Service offers 20 hours of fixed price engineering services to assess an optical system design, performance, or manufacturing problem. One recent project improved lens system performance by 400%. The new expedited service speeds the time to answers on critical problems, turning around a findings report in one week.
Christopher Cotton, GM of ASE Optics, says "Customers are often surprised by how fast we can turn around a project—usually two weeks—and we've had some customers whose development schedules require answers on a tighter timeline. We're pleased to meet those needs with our new Expedited Discovery Service. Whether it's internal stage gates or SBIR deadlines, our work can help those companies stay on track."
ASE's Expedited Discovery Service has recently been used by companies faced with:

Concerns that an optical system as designed would not align and perform properly. ASE suggested changes to the assembly that still used parts on order but improved manufacturability and reduced total cost.
Unclear specifications that were holding up production. ASE validated specifications for this diagnostic system to ensure manufacturability.
Fiber optic that was resulting in too little light throughput. ASE's Discovery Service revamped the model to achieve needed results, while meeting the Product Line Manager's timeline.
Wade Cook, Engineering Manager, says, "We first introduced the Expedited Discovery Service to meet our customers' urgent needs. This new service will help both big and small technology companies who are under time pressure and are short on engineering resources."
Time to market is a significant factor in a technology's adoption and success. ASE's Expedited Discovery Service offers companies under deadline a cost-effective way to seek critical engineering answers in one week. ASE currently offers their Discovery Service for $1950 and the Expedited Discovery Service for $3000—learn more at http://aseoptics.com/aseopticalservices/optical_discoveryservices/.
About ASE Optics
ASE Optics was founded in 1994 to provide optical engineering support for companies who couldn't find, couldn't afford, or couldn't justify having an optical engineer on staff. ASE Optics "sees beyond the lens"—their optical engineers' expertise is both deep and broad, crossing industries from security and defense to consumer electronics to medical devices. Visit http://www.aseoptics.com to learn more.
# # #