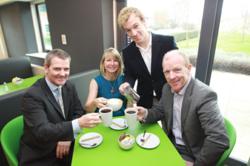 Gateshead, Tyne and Wear, UK (PRWEB) February 23, 2012
The rollback price offer kicks off a week of celebrations starting February 27th 2012 for DCS Multiserve, the UK facilities management company that was started by Michael O'Hara on February 28st 1987. And as a Leap Year bonus for his customers, there will be a business card draw for a bottle of champagne on February 29th at the Café Meos Bistro.
DCS Multiserve started life as Dudley Contract Cleaners in a small rented unit in Dudley, Northumberland eventually moving in 2000 to their own purpose-built building in Killingworth, prompting a name change to DCS Cleaning Network.
The company has grown further since the move, launching a chain of Café's, Delis and restaurants under the Café Meos brand and expanding their service offering to become a full facilities-management company.
To reflect the comprehensive range of services on offer, the company has been rebranded DCS Multiserve Ltd. The group of companies under the DCS Multiserve umbrella has a turnover of over £5 million and operates throughout the UK, boasting several household names among their clientele.
Michael O'Hara, MD of DCS Multiserve added "Our success is down to several factors – hard work, fail-safe systems and processes backed by a great team of people throughout the group who are dedicated to providing unfailing customer service. These ideals have served me well since I started up the business 25 years ago and are part of our group ethos."
"Our 87p coffee and muffin deal marks that start of some fun happenings at Café Meos at the Metro Riverside in Gateshead; we have plans already for events to mark St Patrick's, St George's and St. David's days and something extra-special for St Geordie's Day."
For further information contact Michael O'Hara on (0191) 216 9000 or email Michael O'Hara on michael(dot)ohara(at)DCSNetwork(dot)co(dot)uk
###